The various design of different website platforms has become one of the vital components of a website's effectiveness in achieving its target audience. While building an in-house team of web developers dedicated to website designing can be the immediate idea since advanced tools and media have made web designing seem unchallenging, the daunting complexity of the actual work can be draining and unnerving. A competently designed website may have greater engagement and feedback, which directly impacts a website's sustainability. With this, outsourcing web development may be a more feasible move considering access to a broader, conducive, yet cost-effective service may be acquired.
This article will talk through the reasons for selecting outsourcing website development, the factors that affect the cost of outsourcing and its expenses, as well as comparing outsourcing web development design and building an in-house team.
At the end of this article, you will possess a deeper understanding of website development costs and the reasons why outsourcing could be the most suitable choice for your company's website requirements.
Why Should You Outsource Web Design?
There are several reasons to consider outsourcing a web design:
Cost Savings
Outsourced web development costs are more than a few hundred dollars cheaper than those of in-house developers since the salaries, benefits, training, and office space of the web development team are no longer your responsibility as freelance web designers have their own web design agency and web design firm for those. Partnering with web design agencies grants access in having skilled web developers, and web designers who have web development experience, ensuring successful web development projects.
Time Savings
Website development costs not only money but development time as well. As planning the design, developing the code, and testing the website all take time when building a website, businesses can free up time development time with guaranteed quicker turnaround times and a more effective design process. This can be crucial for companies launching a website rapidly, such as startups trying to build an online presence.
Reduced Errors
Website development is challenging and requires technical know-how and meticulous attention to detail. Fixing errors made during web development can be expensive and time-consuming. Companies can reduce the likelihood of errors and ensure that their website complies with industry standards by outsourcing the task of web development to outside parties.
To guarantee that the website is free of errors and satisfies the client's requirements, external providers frequently have quality assurance procedures. For companies such as e-commerce businesses, this can be particularly crucial as they heavily rely on their e-commerce website to generate revenue.
Access to Expertise
Outsourcing web design may give businesses access to a more considerable talent and expertise pool. External service providers frequently possess specialized abilities and have worked with various clients and industries. Companies can ensure they can access this knowledge, meeting their unique web development needs through outsourcing.
Businesses that need custom website functionality, like an online store, or an e-commerce website, for instance, can profit from outsourcing to companies with expertise in these fields. Business websites that utilize digital marketing can also benefit from the expertise of an outsourced website developer as they offer a content management system that can give effective exposure to such websites and in return increase web traffic. Additionally, outsourcing can give clients access to designers who can produce an aesthetically pleasing custom website that complements their brand and message, connecting to their customers on a deeper level.
What Impacts the Cost of Outsourcing Website Design?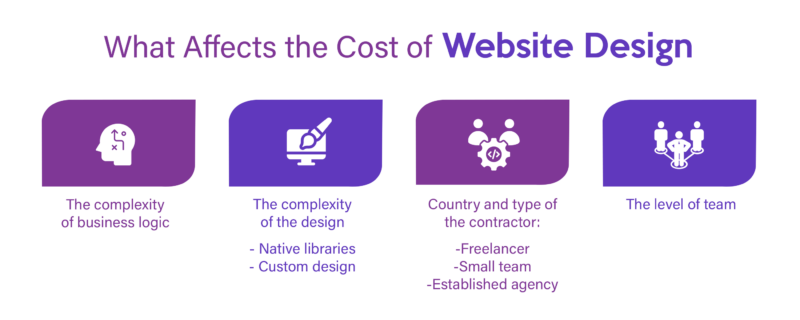 The website cost differs based on the size of the company that seeks to outsource web development. A larger company with a broader web project scope can cost a higher web development price than a small business. For example, an e-commerce website of a large corporation may have more products and services offered, making the amount of work triple compared to a small business website with fewer products and services required to build a simple website and not a complex website, as for the former.
Level of Service Needed
The price of outsourcing web design can also vary depending on the level of service required. Businesses may need a simple website design with minimal customization for less money than a more complex website design with more functionality. Furthermore, for some companies that need ongoing website maintenance, the cost of outsourcing may rise.
Location
The website cost may vary depending on the location of the outsourcing web development agency. Because the cost of living and labor is higher in developed nations like the United States and Canada, businesses may charge higher prices. However, outsourcing agencies in developing countries like India and the Philippines might provide more reasonable rates.
Customization
The web development cost differ based on the level of customization you need for your website. Prices vary be it a professional website, corporate website, or e-commerce business website, as the project's complexity and level of customization affect the website creation cost. Custom website development price depends on the work involved in creating and designing the custom site.
Average Costs to Outsource Web Design Agency
Basic Website Design
A one-page site with few features can cost anywhere from $5,000 to $10,000 to develop, with the average setup, design, and construction fee at $6,760. Moreover, if you run a small business, you can either opt to hire a freelance web designer who charges more or less $25 – $100 per hour. Furthermore, you can opt to build your own website and utilize website builders like Wix, Squarespace, or Shopify which costs around $5 to $50, or WordPress for $35 – $780 upfront cost, then $11 – $50 per month.
Mid-Ranged Website Design
A more intricate website that needs custom website development with custom features like a content management system and advanced functionality can cost between $15,000 and $30,000. Mid-ranged website designs may include corporate websites or a company website where products and services as well as the company's details and created content for digital marketing are incorporated.
Premium Complex Website Design
A website with advanced design, numerous features, and interactive elements can cost between $40,000 and $75,000. Such websites are usually e-commerce websites with colossal internet traffic at peak periods. These expenses for building a website include:
Web Developer Fee
Content Management System
Web Development costs
Custom landing pages
Content creation
Outsourcing Web Design Firm vs. In-House Web Development Team
Initial Setup Costs
Outsourcing Website Design
The initial setup costs for outsourcing web development are low; companies only need to pay for the services of an external web development agency. Depending on the complexity of the project, the agency's experience, and the services required, the price of outsourcing web design can range from $1,500 to $8,000.
Building an In-House Web Development Team
The initial setup costs of creating an in-house website development team are higher, including the team members' salaries and benefits, office space, tools, software, and training. Building an internal website development team can cost between $50,000 and $150,000 annually, depending on the number of team members, the salaries and benefits provided, the office space, the equipment, and the cost of training.
Ongoing Expenses
Outsourcing Website Design
Web development outsourcing entails ongoing costs in payments to the outside company for maintenance costs, hosting costs, upgrades, and support. Depending on the level of support needed and the frequency of updates made, the monthly cost of website maintenance, hosting, upgrades, and support can range from $50 to $500.
Building an In-House Web Development Team
Building an internal website development team may result in higher ongoing costs for salaries, benefits, training, software licenses, hardware upgrades, and upkeep. Depending on the team's size and the project's difficulty, the annual cost of software licenses, hardware upgrades, and maintenance can range from $5,000 to $20,000.
The Total Cost of Ownership
Outsourcing Website Design
Compared to hiring an in-house web design team, typically, outsourcing web development has a lower total cost of ownership. Outsourcing web design is more cost-effective than building an in-house team. Depending on the project's intricacy and the contract's length, the total cost of ownership for outsourcing web design can range from $3,000 to $20,000.
Building an In-House Web Development Team
Building an in-house website development team involves higher initial and ongoing expenses. Depending on the team size and scope of the project, the total cost of ownership for establishing an in-house website development team can range from $100,000 to $500,000 annually.
Companies looking to build a website may find outsourcing web development a more affordable option, particularly if they do not need ongoing web design services. Building an in-house website development team may be more advantageous in the long run, despite the higher initial and ongoing costs, if a company needs ongoing web design support and maintenance.
Choosing the Right Outsourcing Web Design Firm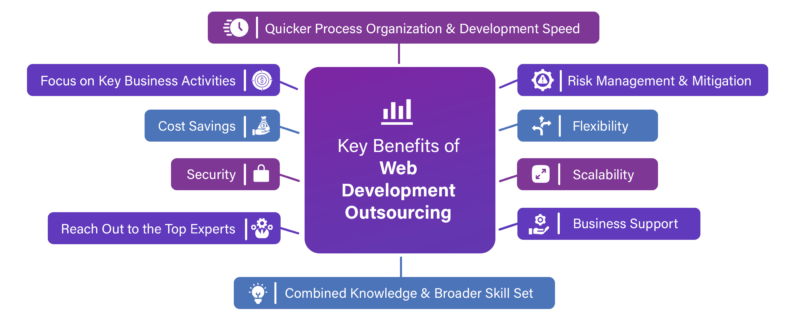 Reputation and Experience
It's critical to consider an outsourcing web development agency's reputation and experience. A reputable company should have a record of producing high-caliber work and offering first-rate client care. Read their reviews and testimonials to learn more about how past customers felt working with the agency. Additionally, consider the agency's experience creating websites comparable to yours, as this can show that they are aware of your unique needs and requirements.
Quality of Service
A vital consideration is the quality of service a web design agency provides. Choose an outsourcing firm that offers a wide range of services, such as website development, design, support, and maintenance. Look at their design portfolio to get a sense of their aesthetic and design philosophies. Ask them about their design process and how they deal with client feedback and revisions.clients will help you greatly in deciding.
Integration with Existing Systems
Selecting a web design agency that can integrate seamlessly with your current systems is crucial if you already have a website or backend system, such as search engine optimization. Inquire about their experience integrating outside resources like content management systems, e-commerce websites, and social media networks with the agency.
Customer Support
A web design agency should provide top-notch customer service to guarantee that your website is always operational. Ask them how quickly they respond to support requests and whether they offer emergency support. As well as how they handle technical problems and escalate problems if they become urgent.
People
It is also vital to consider who runs the web design agency. Look for a company that has a staff of knowledgeable and experienced workers who are experts in different facets of web design and development. Ask about the composition of their team and the qualifications and experience of the designers, developers, and project managers. Inquire about examples of their prior work and the team members' contributions to each project.
Processes
Finally, think about the web design agency's procedures. To guarantee the delivery of a web project on time, within budget, and with high quality, find out about their project management procedures, communication channels, and quality assurance practices. Ask them about their design and development processes and how they give the project's clients' feedback and input the highest priority. Moreover, ask them about their testing and upkeep procedures to ensure your website is reliable and secure.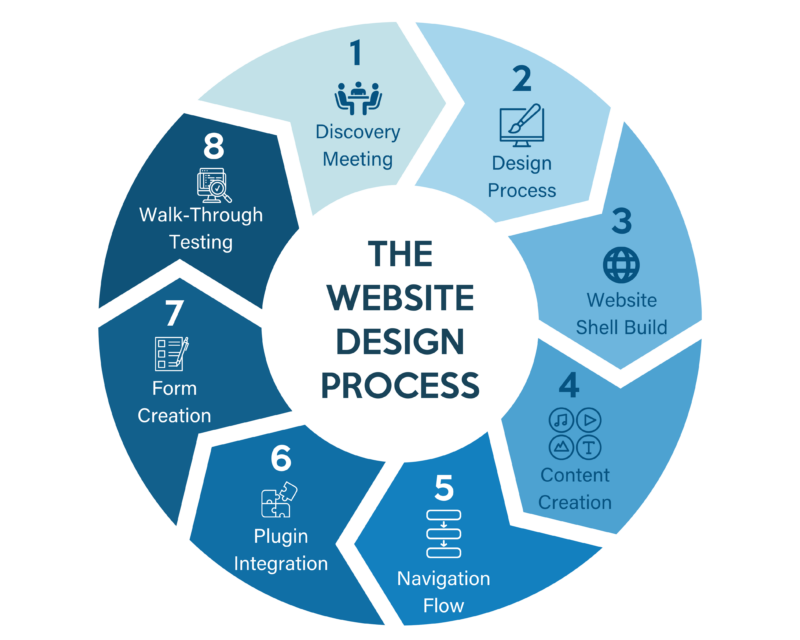 Businesses may find outsourcing their website design needs more affordable and effective. Companies can build a top-notch, functional, and engaging online presence by utilizing the skills of specialized web design agencies without having to bear the additional burden of recruiting, onboarding, and managing an in-house team. The website cost can vary depending on the project's scope, design quality, agency location, and customization. However, considering the potential cost savings, time savings, and access to specialized skills, it is clear that outsourcing is a wise investment for many businesses.
It's critical to consider your company's unique requirements, the resources at your disposal, and the long-term objectives of your online presence when weighing your options. With all of this in mind, carefully consider the advantages and disadvantages of outsourcing a design agency versus building an in-house website development team so that you can make an informed choice that best supports your brand image and will produce your target revenue.