Particularly in cinema, animation, and gaming, animation is one of the essential components of the entertainment business in current day. In addition, they are quite helpful in a variety of non-creative fields, including online advertising, science, technology, architecture, and interior design. They are also very helpful when dealing with IT, creating 3D models, and designing.
The majority of animators are design majors, while some also have backgrounds in engineering, architecture, and related disciplines like information technology (IT).
Animation outsourcing is a somewhat expensive process, however if it's done effectively, the cost may decrease. A large number of movie studios outsource their work to animation businesses in the Philippines, as well as South Korea, India, and Japan for low-cost animation.
By outsourcing animation, you could boost demand for your products while also accelerating production. Let's examine the process as a whole and how to find an animation company for outsourcing.
Variation In Outsourced Animation
A variety of animation styles are available for organizations and people to select from when it pertains to outsourcing animation. These distinct forms of external animation include these common animation outsourcing services:
1. 3D Animation
We immediately think of 3D animation when we discuss realistic animation. Its production uses methods that distinguish it from 2D or conventional animation.
The creation and alteration of 3D characters as well as items for the character design in each scene is simpler for animators. They transition the character between scenes with ease.
In 3D animation, moving visuals are produced in a three-dimensional computer environment. It is utilized in motion pictures, video games, commercial modeling, architectural visualization, augmented and virtual experiences.
2. 2D Animation
Regardless it be a video game, cartoon series, mobile app, advertising, website, or TV show; every domain employs 2D animation work, it has found its way into all forms of entertainment and media.
Traditional animation techniques such as 2D animation require modifying two-dimensional pictures to produce movement. Cartoons, explainer videos, instructional materials, and ads all often employ it.
3. Video Games
For high-quality game visuals, game development businesses are currently collaborating with several animation production studios.
The need for 3D animation providers and animation production companies has increased as the gaming industry transforms to a more realistic gaming experience.
4. Mascot Designing
Companies and companies spend more on marketing in order to be instantly recognizable, and they favor using digital mascots to do this.
To improve consumer engagement and involvement with the business, product, or service, a brand team symbol or character is created.
Companies are utilizing brand characters in promotional video creation to effectively express their corporate objectives to potential customers.
5. Cartoon Commercial
Companies continue to use marketing gimmicks to increase engagement and find success. Animated video advertising and commercials are one of the advertising techniques that always works.
Animation is a popular tool used by businesses to highlight their operations, advertise the products and services they provide, and feature their apps.
According to research, animated films generate greater emotion from the viewer and increase engagement with the company story. It increases lead generation and the audience's conversion and retention rates.
Why Opt For Animation Outsourcing?
Cost Savings
Investing in specialist personnel, animation software, technology, and regular training is necessary to build an in-house animation team, which can be costly. By outsourcing animation, you can take advantage of the skills of seasoned animators and talented artists without incurring the overhead expenses of supporting an internal crew.
TV studios or entertainment focused firms may considerably lower their production costs by outsourcing out animation work. These businesses may access a worldwide pool of expertise, talent, and infrastructure through outsourcing pre production work for a fraction of the price of hiring in-house staff. Additionally, they don't have to spend money on equipment or personnel training, save office space which lowers their overhead costs.
The worldwide animation market had a value of US$354.7 billion in 2020, and by 2030, it is anticipated to have doubled. High-quality animation production may, however, be a laborious and costly endeavor, particularly for businesses that are small or medium-sized.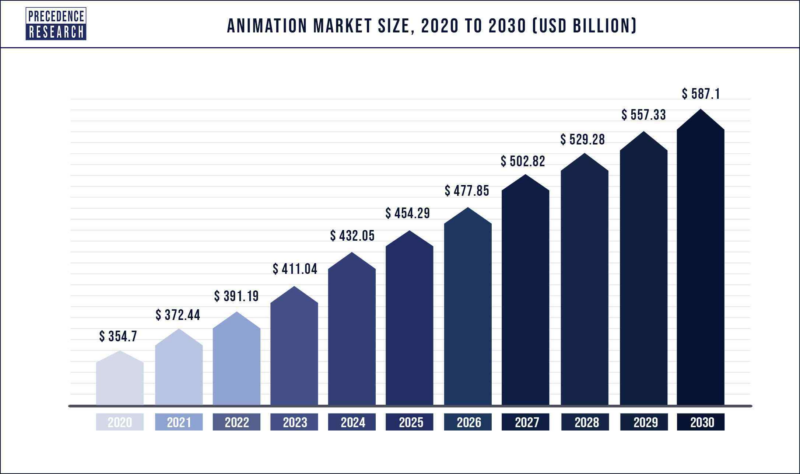 Access To Talented Artists
Animation industry and independent animators frequently have specialized knowledge due to various training programs and expertise in a variety of sectors and animation mediums (2D, 3D, motion graphics, etc.). Finding the ideal animation outsourcing studios for your unique animation project is made possible through animation outsourcing, which gives you access to a wide range of team oriented creatives.
Character animation, visual effects, and motion graphics are just a few examples of the specific methods that outsourcing animation studios frequently specialize in. Working with specialists in the particular approach or method required for your video production through animation outsourcing.
Outstanding Quality Animation
Animation outsourcing studios and specialized animation companies have the knowledge and tools necessary to produce high quality animation. The finished animated videos will adhere to expert and creative standards thanks to their understanding of filmmaking principles, narrative strategies, and cutting edge technology.
Effectivity And Management
Many animation studios ensure seamless post production, and on-time delivery of the animation, animation studios and industry experts have devised workflow and project management procedures through established infrastructure and communication consistency.
Innovation Through Teamwork
Working with outside animators and freelance editors it gives your animation production process new viewpoints and inventive ideas. Unique insights from animators with various backgrounds can contribute to the animation's overall originality, innovation and high qualit
How To Choose A Top Animation Outsourcing Company
If you are a new animation studio with limited services and have been given an excellent project that has the potential to raise your company's profile and help you rank among the top animation agencies? One of the best thing your animation studios can do is opt for animation outsourcing.
However, how will you be able to tell whether the animation outsourcing studio you are going to outsource your animation project to is appropriate for the procedures? When looking for an animation outsourcing company, keep these essential considerations in mind:
1. Find Out More About The Animation Studio
The most effective method of action is to thoroughly research the animation outsourcing studio you are going to choose to handle your animation project. You may learn more about the animation studios level of quality and scope of services by looking at its output and portfolios. To find out how successful an anime studio is in the industry, check out the reviews on different review websites.
Searching for the services you need is the first step. On the result page, Google will provide a list of every website that received a ranking. Select a website, browse the portfolio, and determine whether the work displayed there satisfies the requirements of your project.
The best method for finding an animation studio is to put the city or nation to find animation studios in the search's last field.
Businesses who don't use SEO tactics to improve their websites may not have a chance to appear on the top or even second page of the search results.
If an animation studio website appears in the top search results, it means that they are doing more than just improving the SEO.
2. Discuss the budget
Decide which service you will be outsourcing your animation project for after the animation outsourcing company has been reviewed. Start by talking about the concept, then watch how the other person reacts to your demands and suggestions.
Start with your production stages if the service cost is in line with your needs; if it is out of your price range, choose the second-best studio from your shortlist.
3. Know Your Project Needs
Searching for the services you need is the first step. On the result page, Google will provide a list of every website that received a ranking. Select a website, browse the portfolio, and determine whether the work displayed there satisfies the requirements of your project.
The best method for finding an animation studio is to put the city or nation in the search's last field.
Businesses who don't use SEO tactics to improve their websites may not have a chance to appear on the top or even second page of the search results.
4. View The Testimonials And Reviews From Clients.
Every animation studios claims to be the top animation studio in the world, but you may check its customer reviews on numerous review platforms like Clutch, Sitejabber, Trustpilot and GMB to confirm this claim.
To ensure validity, several of these review websites check and rate company evaluation before publishing the review. To confirm that the animation studio is a trustworthy production business, they adhere to the appropriate methodology and interview process.
5. Verify The Social Media Accounts For Publicity
Many of the best animation outsourcing companies have an online presence and publish information on social media sites in addition to their websites. They were able to maintain contact with their intended market and target audience who are potential customers.
They reply to questions and comments and share their professional experiences. A great marketing tool is for businesses to launch animated commercials and promotional video production on their social media accounts to direct target audience to their primary product and landing pages.
6. Publication And Press Release
There are so many publications of articles on successful animation projects and tales. Look up the news coverage and press releases of the animation studios to find which ones are leading the industry.
Is It Reasonable To Hire An Animation Outsourcing Company?
You will come across several excellent animation outsourcing services when seeking for an animation outsourcing firm that can do the task in half the time of an established animation company.
There are many skilled and outstanding freelance animation services on LinkedIn and other outsourcing websites, but 3D animation firms are rich in the infrastructure and organized procedures that exceed freelancing.
The tools, software, and qualified resources required to accomplish the project with the greatest likelihood of success are all available from animation studios and agencies. So, keep the aforementioned aspect in mind anytime you are faced with the decision of whether to hire a freelancer or an animation studio.
For the animation industry and people, outsourcing animation to a qualified animation studio may be a sensible and profitable choice. However, a number of considerations, such as the specifications for your project, the budget, the timetable, and the level of skill of the outsourcing animation company or business, will determine whether it is fair. You can use the following factors to assess whether hiring an animation studio to handle your unique demands is reasonable:
Production Intricacy:
Outsourcing your animation project to a business with skilled animators can guarantee high-quality outcomes if it is complicated and calls for specific talents.
Competence and Knowledge:
Animation studios frequently employ a staff of talented animators who are experts in a variety of animation methods and styles. Their experience may help your project be a success.
Schedule Restrictions:
Outsourcing to an animation business might speed up the process if you have a short timetable for your project. They have the tools and a committed crew to do your job quickly.
Expense:
While hiring a professional animation studio may involve a one-time expenditure, it can be less expensive in the long run than creating an internal animation team for sporadic or one-off projects.
Quality Over Quantity:
Animation businesses often have quality assurance procedures in place to make sure the finished output fulfills client requirements and industry standards.
All the information above will aid you in locating the top outsourced animation studios for your diverse animation-related initiatives.
You will achieve complete success in the creation of animation if you just keep the tips and tactics in mind while you look for an animation outsourcing firm.
In conclusion, individuals that demand excellent in quality animation services without the additional expense and capabilities of an in-house animation production team may find outsourcing their needs to animation outsourcing businesses to be a wise business decision. Businesses may produce interesting and aesthetically attractive content that draws in their target audience and sets them apart in today's cutthroat market with the aid of the proper animation outsourcing partner.