Graphic design is an essential component of modern business, and it is essential for creating a professional and appealing visual representation of your brand. However, not all businesses have in-house graphic designers or the necessary skills and resources to carry out graphic design work effectively.
This is where outsourcing graphic design comes in. Outsourcing graphic design work can save your business time and money, and it can provide you with access to high-quality design work.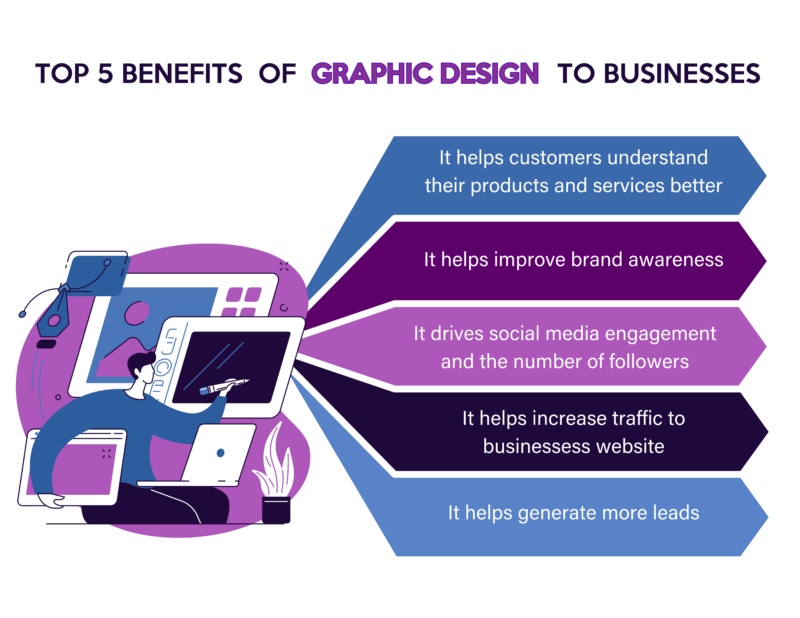 In this article, we will discuss what is graphic design, the graphic design prices, and why companies should invest in it.
Graphic design is the art and practice of creating visual content to communicate information or ideas to a specific audience. It is a form of communication that combines images, text, and other visual elements to create visual representations of concepts, ideas, or messages.
Those who do graphic design are called graphic designers. A graphic designer uses various tools, including software applications, to design and create images, illustrations, typography, logo design, and layouts for different mediums, such as print, digital media (social media graphics), advertising, packaging, web design, and branding.
The goal of graphic design is to create visually appealing and engaging designs that capture the audience's attention and effectively communicate the desired message.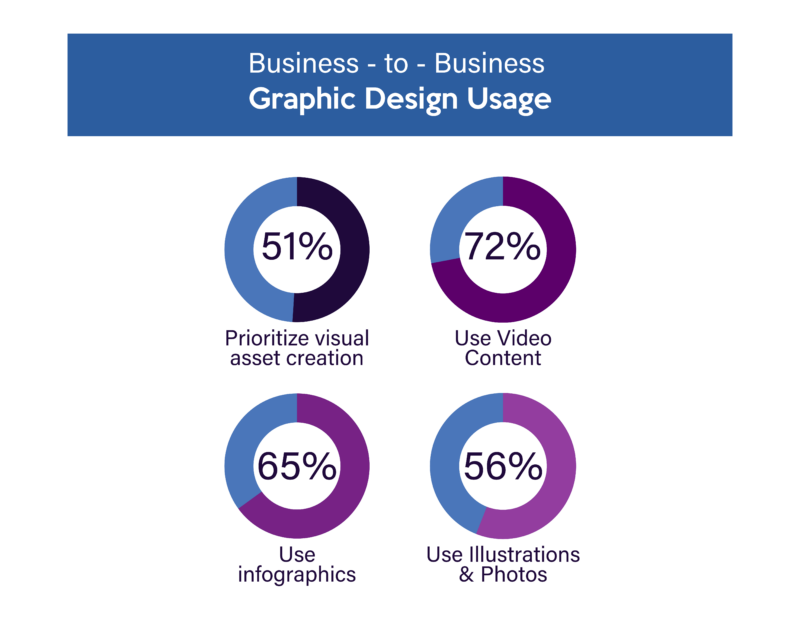 Why Should You Outsource Graphic Design Services?
If you're a business owner, may it be a start-up one or even a tenured one, it is very much likely that you know how important it is to stay on track in today's market especially when it comes to making it visually appealing and for customer engagement.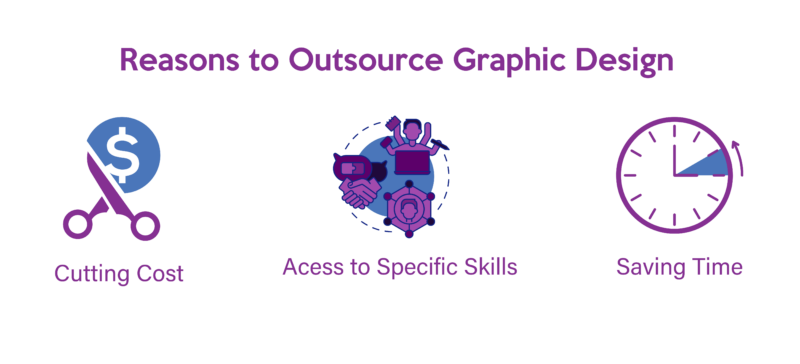 Below are the benefits that you can get when you outsource graphic design services:
Time Savings
Outsourcing can save businesses time and resources that they would otherwise have to spend on hiring, training, and managing an in-house graphic design team. With it, it allows businesses to focus on their core competencies, reaching out to their potential clients and leaving the design work to the experts.
Access to Expertise
Outsourcing graphic services – may it be via an agency or freelance graphic designers provides businesses access to a pool of skilled and experienced graphic designers who can create high-quality designs that align with the business's branding and marketing goals. These designers have expertise in various design disciplines, such as branding, advertising, web design, ebook design, and more, making them better equipped to handle different design needs.
In addition to this, they have a creative director which sets the pace of the creative team towards your goal of having an excellent output.
Reduced Errors
Aside from the above-mentioned reasons why you should outsource these services, one of the reasons to outsource is for you to be worry-free when it comes to common mistakes and other concerns that you may be facing.
They ensure that their clients receive high-quality designs that align with their branding and marketing goals. Professional design agencies have more experienced designers and have quality control processes in place to ensure that designs meet your business's specifications and standards.
Scalability
By availing outsourcing services, it provides businesses with flexibility in terms of project size and scope.
Businesses can hire graphic designers on per project basis, allowing them to scale their design needs up or down based on their requirements.
Access to Technology and Tools
Since graphic design agencies specialize in creating visual content, they have the best and latest tools (e.g. Adobe Photoshop, Canva) that enable designers to create high-quality designs that meet your standards and to whatever it is that you're liking.
With the help of these tools as well, quality output from these agencies can help a business achieve their brand reach and even engagements as they can develop and execute campaigns that are tailor-fitted to your target audience.
Cost-effective
Graphic design services can be cost-effective for businesses, particularly for small and medium-sized businesses that may not have the resources to hire an in-house graphic design team. Outsourcing allows businesses to access professional design services from freelance graphic designers at a lower cost since they can be paid at an hourly rate than hiring full-time graphic designers.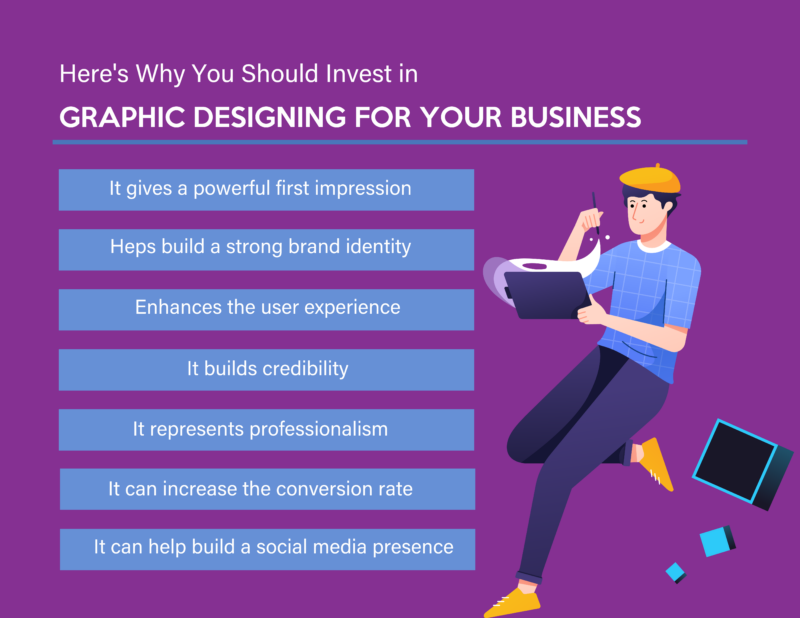 Factors Affecting the Cost of Outsourcing Graphic Design
Many businesses especially those that are start-ups wish to avail of outsourcing services but are on a tight budget. There are many factors affecting the graphic design rates that you may need consideration in your pricing strategy and are as follows:
Size of the Company
Company size has a big impact on graphic design pricing. Larger companies typically have a higher volume of work that needs to be outsourced, which can result in a lower cost per design project. This is because designers or agencies may offer volume discounts for larger projects or ongoing work.
In contrast, smaller companies may have less work to outsource, which can result in a higher cost per project as designers or agencies may charge a minimum fee to cover their time and resources.
Sometimes, if small companies can't afford agencies to work with, they can actually outsource graphic design freelancers who chargers work per hour or sometimes at a fixed price.
Level of Service Needed
Graphic design service cost varies on different levels depending on what is needed, a few options may be in form of web design (to which you will be needing web designers), infographic projects, social media, and others.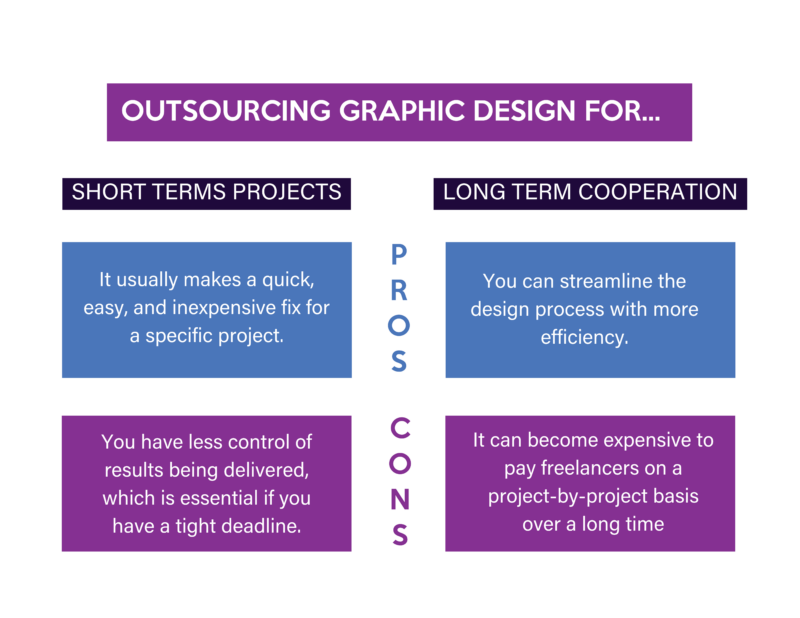 Location
If a company is located in a major metropolitan area, it may be able to find a larger pool of more experienced graphic designers or agencies to choose from, which can result in a lower cost.
In contrast, if a company is located in a rural or remote area, it may have to pay more to outsource graphic design services due to a limited pool of available designers or agencies.
Scope of Work
The scope of work is one of the most crucial factors that determine the cost of outsourcing graphic design. Large project scope and project's complexity will require more time and effort and will cost more value. For instance, a simple logo design may cost a few hundred dollars, while a full branding package, including logo, website, marketing materials, and social media graphics, can cost several thousand dollars. The type of design work required, such as illustration, motion graphics, or 3D modeling, will also impact the cost.
Payment Structure
The payment structure can also affect the cost of outsourcing graphic design. Agency's payment structure differs from those who are stand-alone freelancers. Freelance graphic designers charge an hourly rate, while others charge a flat fee for a specific project. For those freelance experienced designers who work in agencies, they have this thing called "freelance graphic design pricing" while others have project rates instead of them being paid as to how many hours they've rendered for the project.
Some designers may require a one-time deposit, while others may require payment in full upon completion of the project. Be sure to clarify the payment structure before starting any work to avoid misunderstandings and hidden costs.
Contract Length
Contract length plays a big role as well when it comes to the cost as longer contracts typically offer more stability and predictability for both the client and the freelance designer or agency. This can result in a lower cost for the client, as the designer or agency may offer a discount for a longer-term commitment.
In contrast, short-term contracts may be more expensive, as the designer or agency may need to charge a higher rate or sometimes, hourly rates to cover the cost of uncertainty and risk.
The cost of these services is basically the same rate even if you are in small, medium-sized, or in large corporations. They only differ when it comes to the package that you will be availing and also the freelance designers' personal pay per hour.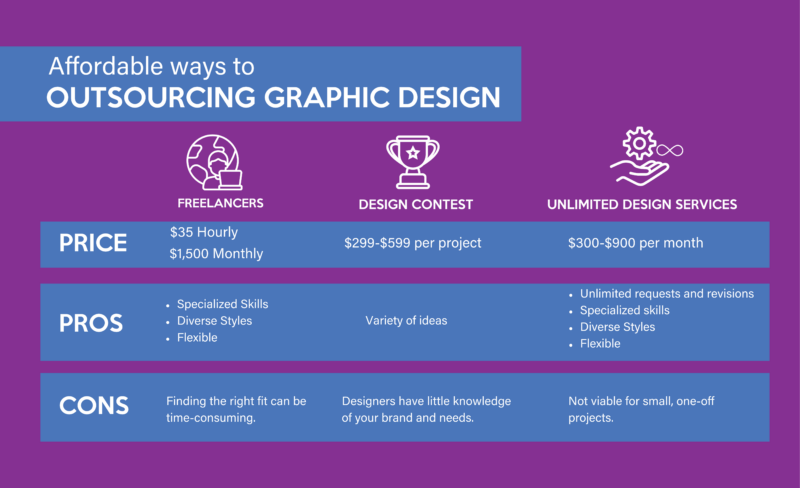 Below is the type of service/package that you may need to consider when it comes to cost:
Outsourcing Graphic Design Services vs. In-House Graphic Design Team – Direct Comparison
Some companies, especially those who are in start-up businesses, don't have any idea whether should they choose to outsource graphics teams or just do some in-house hiring, so let's compare them for better understanding.
Here's a breakdown of some things you may need to consider:
Initial Setup Costs
Outsourcing Graphic Designing:
Initial setup costs for outsourcing graphic design services are relatively low since you don't need to invest in hiring and training staff, purchasing equipment, or creating an infrastructure for graphic design services.
You can easily find a freelance graphic designer or an agency with experience in your industry or specific design needs.
According to freelance sites like Fiverr and Upwork, hourly rates can go from

$15 to $45

per hour for amateur and junior designers. However, a Senior or Pro designer might charge starting on $100 to $150 per hour, and sometimes even more.
In-house Graphic Design Team:
According to different sources, full-time designers' wages start at around $32,000 or $35,000 a year in the US for an Entry or Junior position. This can go all the way up to

$77,000

a year for Senior designers.
You need to have a physical office space to accommodate the team and provide them with the necessary equipment.
Ongoing Expenses
Outsourcing Graphic Designing:
Outsourcing graphic design services come with predictable expenses, as you pay for the services provided on a project-by-project basis.
You may need to spend some time and money on finding the right designer or agency for your design needs.
In-house Graphic Design Team:
Total Cost of Ownership
Outsourcing Graphic Designing:
The total cost of ownership for outsourcing graphic design services is relatively low, as you only pay for the services provided on a project-by-project basis.
You can avoid expenses such as salaries, benefits, and overhead costs, which can be significant in the long run.
In-house Graphic Design Team:
In-house graphic design teams come with ongoing expenses such as salaries, benefits, and overhead costs such as rent, utilities, and supplies.
You need to invest in training and development programs to ensure that the team is up-to-date with the latest design trends and software.
Outsourcing graphic designing can be a cost-effective alternative to hiring an in-house designer, especially for small businesses or startups. The cost of outsourcing graphic designing varies depending on several factors, including the scope of work, experience and expertise of the designer or agency, location, and payment structure. Investing in high-quality graphic designing can have significant benefits for businesses, including standing out in a crowded marketplace, increasing brand recognition and loyalty, communicating ideas and messages effectively, and enhancing user experience. When outsourcing graphic designing, it's essential to choose a designer or agency that has the necessary experience and qualifications to meet your needs and deliver a high-quality product.
Choosing the Right Graphics Design Provider
Now that we've gathered all the costs to outsource graphic designing services, how would you know which provider is the best fit for your brand?
Before proceeding, we highly encourage you to check out The New Workforce. They provide well-equipped talents that specialize in graphic designing, online marketing, IT support, customer services, and many more!
Experience and Expertise
Look for an agency with a proven track record, skill level, and expertise in graphic design. You can check their portfolio to see their past projects and the quality of their work.
Services Offered
Different agencies may offer different types of graphic designing services. You should look for an agency that provides services that align with your needs, such as branding, logo design, website design, social media graphics, or packaging design.
Creativity and Design Style
Each graphic designing agency may have a unique design style, and you should look for an agency whose design style aligns with your vision and preferences. Review their portfolio to see if their designs appeal to you.
Communication and Collaboration
Communication is essential when working with a graphic designing agency. Choose an agency that communicates effectively and is open to collaboration. The agency should be willing to listen to your ideas and incorporate them into their designs.
Cost and Budget
Graphic designing agencies may charge differently based on the services offered, the complexity of the project, and the level of experience. You should choose an agency that provides quality services at a fair and reasonable price that fits within their client's budget.
Turnaround Time and Availability
The agency's availability and turnaround time are crucial factors to consider, especially if you have a tight deadline. Ensure that the agency can deliver your project within your preferred timeline.
Reviews and Testimonials
Look for reviews and testimonials from past clients to get an idea of their experience with the agency. This information can help you make an informed decision.
To wrap things up, outsourcing graphic design can be an effective way to improve your visual marketing materials and create a more professional brand image. However, the cost of outsourcing graphic design can vary widely depending on the scope of your project, the expertise of the designer, and their location.
To get the best value for your investment, it's important to carefully consider your project's requirements, set a clear budget, and carefully evaluate potential designers' skills and experience. By doing so, you can ensure that you're working with a designer who can deliver high-quality work that meets your needs.