Call center outsourcing is a great way to hire a team of agents who work for you outside of your organization. It allows your company to prioritize what's important without compromising customer service operations. A skilled and knowledgeable staff of call center agents will handle the rest. By enhancing your company's functionality in critical areas, call center outsourcing may improve the customer service operations. Call center services, as part of business process outsourcing (BPO), may include everything from client assistance to help in tech support, desk support, human resources, marketing, talent acquisition, finance, appointment setup, and customer service calls.
Two Types of Call Center and Their Difference
Inbound Calls
Contact centers that handle incoming calls are staffed with agents who are available to assist customers with their inquiries and concerns. These call centers are especially helpful for clients who require assistance with troubleshooting or require guidance with a particular issue. For instance, if your internet connection is down or is running too slow, you can contact your internet service provider's customer service department to report and resolve the problem. The operators at the inbound contact center can provide you with contact information, email responses, direct mail follow ups and chat assistance in addition to on-call support.
Outbound Calls
At an outbound call center, agents initiate calls to consumers instead of receiving them. However, this type of contact center is typically not used for sales, cold calls, marketing, or consumer surveys. Some business owners use this business strategy to welcome new clients with a "welcome call," where representatives provide more information about the company's products or policies.
When it comes to call centers, there are two main types with distinct goals. Outbound services, also known as telemarketing centers, are primarily focused on making sales calls to potential customers. On the other hand, inbound call centers are designed to handle incoming calls from customers seeking assistance, asking questions, or registering complaints. These centers are responsible for providing prompt and professional service to ensure customer satisfaction. The inbound services agents are trained to handle a wide range of requests, from product information to technical support, and to guide customers towards the resolution of their issues. Ultimately, the main objective of inbound call centers is to provide a positive customer service department experience while resolving issues in a fast and efficient manner.
Benefits of Call Center Outsourcing
1. It cost less
Outsourcing customer service operations can be a cost-effective decision for companies. By center outsourcing, they can significantly reduce contact center costs. This is because the cost of living in certain foreign countries, such as India, is much lower compared to the United States, which is a popular outsourcing destination. As a result, companies can pay lower wages to their workers, ultimately leading to savings for the company.
2. Saves more time
If you're looking for a way to streamline your organization's operations, outsourcing your call center may be a smart choice. By doing so, you can avoid the time-consuming process of hiring and training call center staff, freeing up your resources to focus on other critical areas. Additionally, partnering with an outsourced call center ensures that your customers will receive professional and knowledgeable support, which can reduce stress on your company. Ultimately, outsourcing your call center can help you allocate your efforts more efficiently and effectively.
3. 24/7 customer service
The importance of providing 24/7 customer support to guarantee that we leave customers satisfied. However, we also know that hiring local call center service provider to work during the night can be incredibly expensive. That's why we suggest partnering with a third party contact center as a cost-effective solution. By utilizing offshore call centers during the day, you can cover all hours of the day without assigning extra shifts to your in house team. This approach not only saves your center costs but also ensures that your customer service receives consistent and dependable support around the clock. Which then improves relationship with existing customers and 24/7 customer service helps in improving customer satisfaction.
4. Global growth
If you're looking to expand your business internationally, outsourcing call centers can be a smart move. This can be especially profitable if your company is already global or if you're considering international development in the near future. It's especially helpful if these call centers are located in the countries where you hope to establish operations down the line. By hiring an outsourced call center, you can save money on center outsourcing costs while still providing top-notch customer service operations to your existing customers. Here are some of the countries that are leading in a recent outsourcing statistic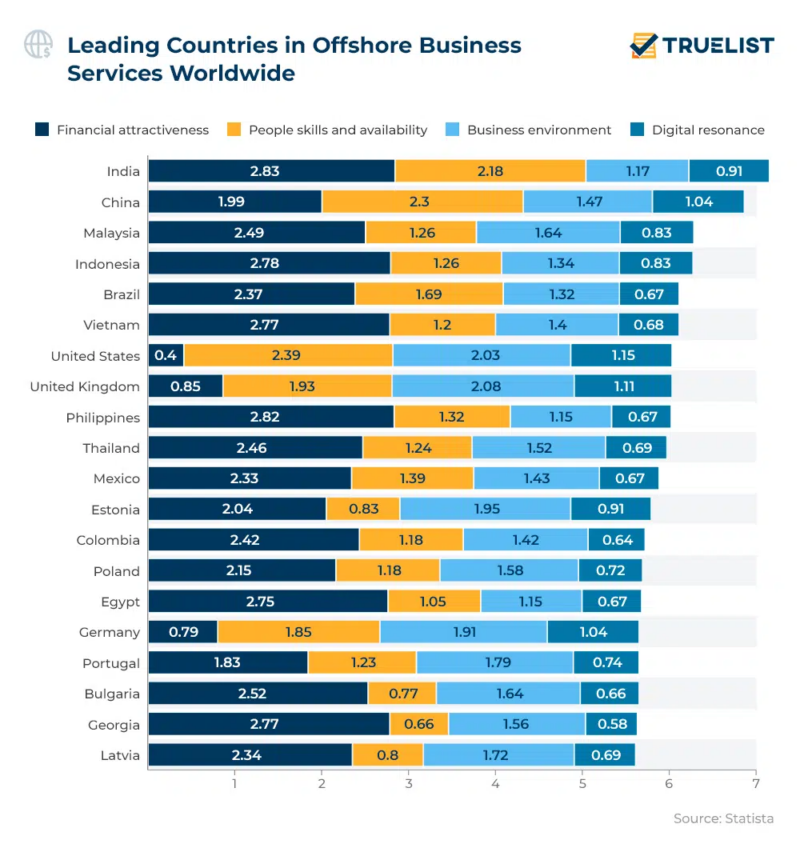 5. Managing calls
During certain times of the year, like holidays, there may be a higher volume of calls. Handling a sudden surge in customer service calls during these times can be difficult. However, you can easily transfer these overflow calls by setting up an outsourced call center specifically designed to manage them.
Services You Can Outsource with Call Center Services
Outbound call center outsourcing services
Outbound call centers are great for sales and market research. Sales reps can qualify leads through targeted cold calling, while companies gain valuable insights from their target audience. Here are some of the services outbound call center services provides:
Telephone Marketing
Market research shows, phone marketing is a valuable tool for increasing customer awareness of your products and services. It can help with customer acquisition of potential customers for your company.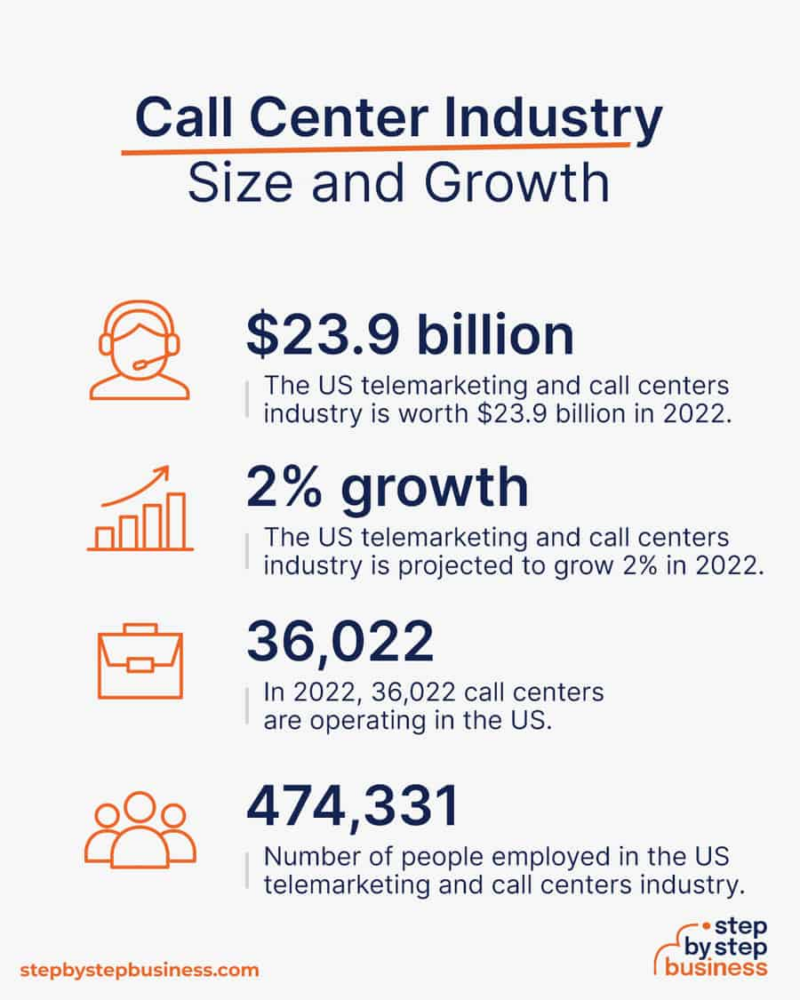 Appointment Booking
Whether it's outbound calls or inbound calls, the service can be either business-to-business or business-to-customer. Call center outsourcing connects you with other companies that can become your business partners or introduce you to potential buyers.
Market Research
Conducting a thorough market analysis is an essential aspect of outbound call center representatives' roles. By carrying out market research, they gain valuable insights into their clients and competitors, which allows them to enhance their messaging and create more effective sales proposals. This process is crucial as it enables sales professionals to improve their understanding of the market and remain competitive in their industry.
Creating Lead generation
Lead Generation Techniques in the business world, sales professionals can effectively generate and qualify leads with the aid of outsourced call centers outbound services. Engaging in cold calling activities can help to uncover promising opportunities. Through the collection of phone-based information, the eligibility of leads to make a purchase can be determined, taking into account factors such as timing and available funding. This type of targeted lead generation approach helps to maximize sales productivity and drive business growth..
Customer Feedback
Customer feedback is an essential aspect of any business, and outbound call centers play a crucial role in gathering this information. Besides making outbound calls, outsourced call centers may also conduct market research and consumer surveys on behalf of companies and organizations. These services are outsourced to outbound call centers as they provide valuable insights into how customers respond to marketing initiatives or how satisfied they are with the goods and services provided by a company. The feedback collected through these surveys helps businesses to improve their products, services, and customer experiences, ultimately enhancing their bottom line.
Inbound call center outsourcing services
As we look to the future, it's clear that inbound call centers will continue to offer more than just customer support. In fact, they may become a valuable source of revenue with the opportunity to cross-sell and upsell a variety of services. Here are some of the typical additional offerings you can expect from these centers.
Orders And Payment
the convenience of ordering goods and services online has become increasingly popular. However, it's important to note that many consumers still prefer to place orders over the phone. This is where inbound outsourced agents come in handy, as the customer service department provide assistance to customers who wish to make purchases via phone. Additionally, customers can contact businesses to inquire about their invoices or resolve any issues with online payments. Overall, these services ensure that customers have a reliable and efficient means of processing their orders and payments, regardless of their preferred method of communication.
24/7 Technical Support
If you encounter any difficulties with your account, password changes, or need to update your account information, having an outsourced call center represenatives are available to assist your customers need for any technical troubleshooting. They can also help resolve any complaints your customer may have. Outsourced call center agents have access to several desk tools to direct your customer to IT professionals if they need advanced technical support.
Bids for Upgrades or Renewals
Subscription-based businesses like subscription boxes often receive calls from customers who wish to upgrade their plans. These calls are handled either by an outsourced call center who can assist with the plan expansion or by incoming call center agents who are trained to handle plan upgrades themselves.
Customer Service For Any Languages
contact center is equipped to provide support services in a variety of languages. Not everyone is fluent in English, so Inbound call center operation assists in Chinese, Thai, Bahasa Indonesia/Malaysia, French, German, Spanish, Italian, Japanese, and Korean. No matter which language a customer may prefer, Inbound call center agents are trained to provide voice, non-voice, and inbound services to ensure that your customers receive the help ther need. Whether they have questions about upgrading their subscription box plan or need assistance with any other issue.
How to Outsource Call Center Services Effectively
Terms of Product and Pricing
When outsourcing call center services, it's important to consider pricing and contract terms. Each provider has unique pricing plans based on your company's needs, including appointment scheduling and order taking. It's crucial to inquire about upfront costs, overage charges, and negotiate for the best price. Additionally, evaluate service expectations and monthly sales volume. Request estimates from multiple providers, review terms and conditions, and ask about current specials and free trials.
Read Client and Expert Testimonials
When considering outsourcing partners, it's important to do your research and gather information from a variety of sources. Reading client and expert testimonials can provide valuable insight into the experiences of others who have worked with the companies you are considering. Evaluating feedback from many sources, such as consumer reviews and industry publications, can also help you make an informed decision. By taking the time to gather information and weighing your options carefully, you can find an outsourcing partner that aligns with your values and meets your business needs.
Know the Services Offered
When deciding on a suitable outsourced call center, it is important to assess your specific needs for either inbound or outbound services, or both. It is advisable to search for providers that offer comprehensive records of call completion and rejection rates, as well as advanced services such as live agents, chat support, social media management, mobile app support, and content marketing. Taking these factors into account will help you find the most efficient and effective call center solution for your business.
Trainings and Coaching
Provide coaching and training to outsourced call center staff to ensure they understand your company's offerings, target markets, and customer expectations. Use a variety of delivery methods, such as online courses, webinars, manuals, videos, simulations, quizzes, or feedback sessions, and regularly update materials to reflect changes. This will help your agents provide dependable, high-quality service to your clients.
Define your Goals and Objectives
Before collaborating with center outsourcing companies, it is essential to define the goals and scope of the call center outsourcing company project. What services, jobs, and duties will be outsourced? What indicators and measures will be used to assess the effectiveness and value of outsourcing? What deadlines, costs, and outputs are expected from the partner? By defining precise and explicit objectives and scope that all parties understand, misunderstandings, scope creep, and confusion can be avoided.
In conclusion, the key on how to outsource a call center operations successfully is conducting thorough research and establishing predetermined needs. This will help avoid getting lost while searching for the right outsourcing partner who shares your values and business ethics. To narrow down your options, inquire about the service providers' work history, benchmarks, key performance indicators, and overall performance when delivering services. Additionally, consider their client list, including current or former customers who use a similar company strategy to yours.