Marketing is the drive-and-thrive aspect of any small business. It brings customers to you and enhances brand awareness for your customers. In short, it's a necessity to get you noticed and sustain sales. For a small business owner, overseeing traditional and online marketing is a massive undertaking.
Hiring an in-house marketing team is expensive and time-consuming. Fortunately, there's a third option, which begs the question of how much it costs to outsource marketing. Here, we'll dive into topics including the challenges and benefits of outsourcing and overall cost.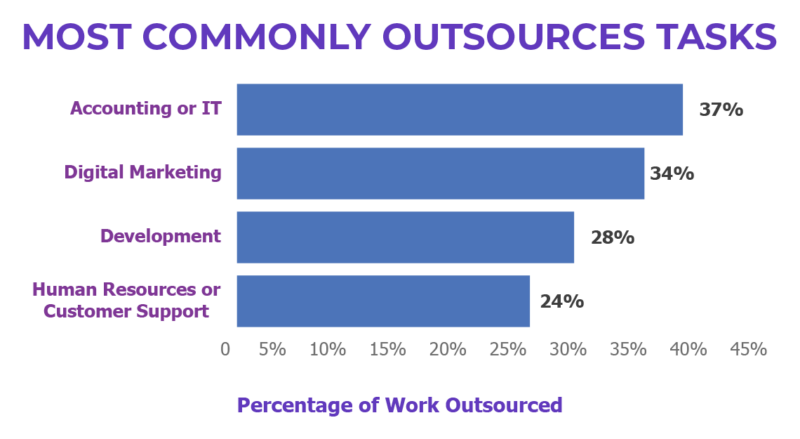 Why Should You Outsource Marketing?
Outsourcing any component of your business has the potential to save you time and energy. In marketing, there are multiple pieces to the puzzle to consider, including training, budgeting, and even usable marketing platforms.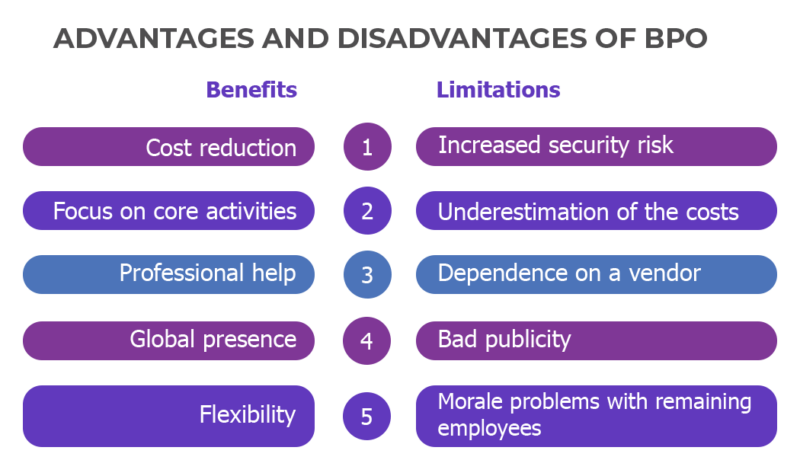 As you consider the pros and cons of outsourcing vs. in-house marketing, here are some benefits of the former to ponder.
Saving time
This is an obvious advantage of any outsourcing process. Suddenly, the daily operations of that department are out of your hands. This gives you more time to manage your business and focus on the stuff you do keep in-house.
Some of the ways you save time by outsourcing this department include:
No designing a marketing strategy
Fewer HR hours spent on vetting and hiring talent
No need for the development and implementation of training
Less work for payroll to organize salary and benefits
No marketing performance reviews
You'll still work closely with your third-party marketing agency to strategize. However, the overall time spent on digital marketing projects will differ greatly from an in-house management tactic.
Reduced errors
We all make mistakes, but marketing mistakes are costly. This is a department that oversees outgoing messages to customers at a national and even international level. In some ways, they're building your reputation through brand management.
Limit marketing errors by streamlining your approach to advertising with a third-party partner. All employees face the same training and guidelines, streamlining the process. The key to error-free marketing is consistency.
Access to expertise
Hiring experienced marketers provides you with the limited expertise of those new hires. Outsourcing to a third-party marketing agency offers a broad range of digital marketing expertise, support, resources, and training at your fingertips.
Your outsourced partner acts as an extension of your in-house business team. You can count on them to deliver high-quality services, impacting your overall brand from within.
Fewer Training Requirements
Training is a major cost and time restraint for business owners seeking marketing employees. There are many steps to the training process, including:
Developing training framework and marketing strategy
Buying or creating training documentation and tools
Hiring a trainer or marketing manager
Scheduling and delivering paid or unpaid training
Assisting with the transfer of training to on-site skill use
Each of these steps is costly toy our company, and to your time as a business owner. Outsourcing limits your role in each of these steps, increasing the time you spend on other areas of business.
Ease of Expansion
No business wants to operate under a stone ceiling. You need room to grow. Expansion takes resources, and expanding your own marketing team is expensive.
When you outsource your digital marketing department, expansion becomes easy. A simple chat with your marketing provider about where you see the department going in terms of growth and advancement, and they provide the rest.
No head hunting, interviewing or training new staff. Everything is handled by your outsourcing partner.
What Impacts the Cost of Outsourcing Marketing?
Outsourcing comes with a long list of benefits, but it doesn't come for free. Marketing agencies still requires some financial investment on the part of your company.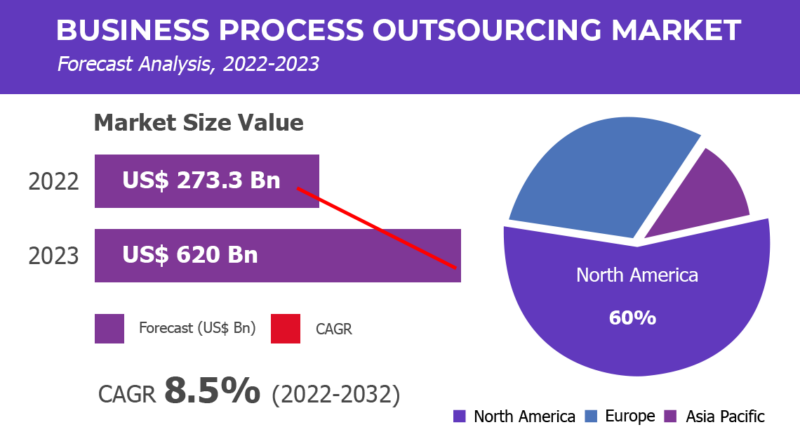 So, how much will you pay, and what impacts those costs? Here are a few of the factors that play a role in overall cost.
Size of the company
The size of your company directly impacts the cost of any outsourced department. You need more staff, more resources, and more marketing framework to reach a broader customer base. This is a good problem to have, but one that will cost a little extra where marketing is concerned.
Large companies with 20 or more employees often have larger marketing teams. The types and quantities of products or services you provide also play a part in this cost.
Level of service needed
The types of marketing services you want to include in your outsourcing partnership impact cost. Some of the services a marketing partner might provide include:
Content creation
Digital marketing services
Customer engagement
Social media services
Reputation management
Email marketing campaigns
social media ad campaigns
Traditional marketing (print, television, radio, etc.)
Web design and upkeep
Search engine optimization
The more customized your services become, the more you can expect to spend on them.
Location
Outsourcing partners exist all over the world. Partnering with a marketing agency in North America will cost more on average than partnering with an international partner. A lot of factors go into this price fluctuation, including language, education, and time zones.
For digital and social media marketing, in particular, location impacts knowledge of local trends and popular social media channels.
Availability
Availability, like location, takes a toll on outsourcing costs because it directly impacts your customers. When your staff is available is critical to the successful running of your company. How are you to contact marketing if they operate on a time zone 6 hours after your own?
There are other factors impacting availability costs, including overtime. Working with a digital marketing agency with 24/7 access is going to cost more than a 9 to 5 operation Monday to Friday.
Social media marketing is an especially time-sensitive area. Posts should be made regularly and during peak hours. You'll have to weigh your pros and cons and consider which aspects of availability and cost matter most to your team.
Customization
We touched on this a little bit above, but customization is a big component in cost. Every brand is different and you want your marketing team to speak with the voice and interest of your company. Check for customizations on email, traditional, and social media marketing efforts.
Every customization you make to a basic marketing package could cost you. Choose a third-party provider which promises bespoke marketing options at affordable prices.
Contract duration
Finally, the length of your contract with an outsourcing partner will increase or lower costs. Why? Because the longer a contract lasts, the greater the guarantee that your brand will continue paying the outsource provider. This gives them the incentive to offer a lower rate to obtain that sustainable contract length.
Short-term contracts give you more freedom, but cost more to create. This is another area here you may want to shop around and find the right fit for your business.
Average Costs to Outsource Marketing Efforts
Unlike sales or IT, digital marketing includes a broad range of responsibilities and roles. This creates a larger range of price points, making it tough to nail down the exact average you'll pay to outsource social media marketing and other marketing forms.
Depending on the services you require, and the size of your company, you could pay somewhere in the ballpark of $1,000 to $20,000 a month. For a small to mid-sized business, however, you likely won't pay more than $5,000 a month.
Small businesses: For  0-9 employees, you shouldn't need to pay more than $1,000 to $2,000 a month on marketing outsourcing. You may even pay less. This all depends on the services you need.
Mid-sized companies: For 10-19 employees you're more likely to pay between $2,000 and $5,000 a month.
Large corporations: For 20-plus employees you could pay $5,000 to $20,000. The cost reflects the higher number of resources, additional training, materials, and other factors required to manage a big marketing team.
Every outsourcing provider is different. Some may offer a cost-per-service payment plan, while others roll month to month. You'll need to go through your budget and business plan to decide which fits your company needs.
Outsourcing Marketing vs. In-House Marketing – Direct Comparison
Glassdoor says marketing representatives make $52,094 on average per year. This salary fluctuates based on education and experience, but you can expect to pay around this much per marketing rep you hire. You'll pay more for specialized reps like digital marketing, or social media marketing professionals.
Considering the cost of one marketing employee, comparing outsourcing and in-house gets interesting. Here are some of the costs to consider as you make this comparison.
Initial setup costs
Setting up your digital marketing team in-house requires start-up costs, such as:
Office space: $25,000 or more for a commercial office.
Computer, phone, and other equipment: $3,000 to $6,000 depending on company size.
Marketing software or CRM: $500 to $2,000
HR for vetting and acquiring talent: $26 to $33 per hour for HR salary.
This number is much higher than what you'll pay to register or set up an account with an outsourcing partner.
Ongoing expenses
Ongoing costs are any fees that continue through the life of your company. Everything from administrative supplies to office rental fees fall into this category. Some of the common expenses you'll pay ongoing for an in-house marketing team include:
Marketing manager salary: $92,608 per year
Training upgrades: Fluctuate based on resources and materials needed.
Equipment maintenance: Businesses usually spend about 5% of the cost of equipment to maintain it. If you pay $5,000 for equipment and $500 for software, you can expect to spend roughly $275 a year on upkeep.
Keep in mind not all business models require a marketing manager. If you're a small company with a marketing department of one, you don't require a manager to run the department. Some ongoing costs can be skimmed. Similarly, small businesses often rely on social media marketing alone. This can cut costs as well.
For marketing agencies, the only ongoing costs are your pre-agreed monthly service payments. Unless you choose to expand or upgrade later.
Total cost of ownership
Factoring in all the fees and costs of an in-house team vs. an outsourced team, you could pay roughly $176,985 a year. This is based on having only one digital marketing employee and a marketing manager.
You can lower this price by forgetting the manager, or increase it by expanding your sales team to include more staff. Overall, you'll pay more for an in-house team than you will for an outsourced one.
Choosing the Right Marketing Outsourcing Provider
Knowing the cost of outsourcing isn't all the information a company needs for a successful partnership. How do you know which marketing provider is the right one for you? This takes careful consideration and a little shopping around.
As you chat with different contenders, we recommend checking out The New Workforce. This is a full-service outsourcing partner providing top-of-the-line marketing services, along with sales, IT, customer service, and more. All employees come pre-vetted, trained, and experienced in modern marketing techniques.
Some of the main factors to look at as you compare different outsourcing providers include:
Reputation and experience
Your marketing team builds and manages the reputation of your entire brand. So, when you hire the right outsourcing provider for you, you want to see that amazing reputation mirrored in them. If a marketing firm can't control its own reputation, it won't be able to handle yours.
Experience is another key component to a top tier marketing provider. How much experience do they have with your industry and niche? How long have they worked with modern marketing techniques? Do they continuously train and upgrade to meet current industry standards? These are all important questions to ask.
Quality of service
What kind of services is good to know, but also the quality of those services. A generic marketing provider offering keyword maximization from content-mill-quality writers won't get your brand far. Look at the way each service is offered, and whether they fit your company's standards.
Integration with existing systems
There's nothing more annoying than finding the perfect outsourcing partner, only to realize they aren't compatible with your current operating system. The platform your brand uses to deliver services and products to your company is kind of important. Being forced to switch to a new platform for marketing alone is inconvenient at best.
Look for third-party outsourcing providers with compatible software or service platforms. If you can work together in harmony without too many massive changes, it's better for you and your customers.
Customer support
Speaking of customers, customer support is crucial to a good marketing team. In this instance, your company becomes the customer, and your provider is providing you with a marketing service. If there's a problem, it's good to know when you can reach someone for guidance.
It's also useful to think about modes of customer support in this instance. Can you chat in person, by phone, email, or online chat? The more ways you can get in touch the better.
People
Marketing is a lot like sales. These people need to sell themselves in a sense, to sell your brand. Getting to know the people you're going to work with encourages a better outcome for your business.
Talk with potential outsourcing partners to find the right fit. Ask questions, and trust your gut. Choosing a trustworthy team to represent your company will be worthwhile in the end.
Social Media Reach
Social media marketing has become massive over the past few years. Consumers use social media for everything from finding recipes to communicating with loved ones to shopping online. Social media marketing has a broader reach than most traditional marketing efforts.
Choosing a marketing agency with a strong social media marketing presence is highly beneficial. As you look at outsourced marketing providers, take a good look at their social media marketing services.
This guide to outsourcing marketing has covered a variety of topics including cost, comparisons to in-house marketing teams, and what makes the best of the best in outsourced marketing.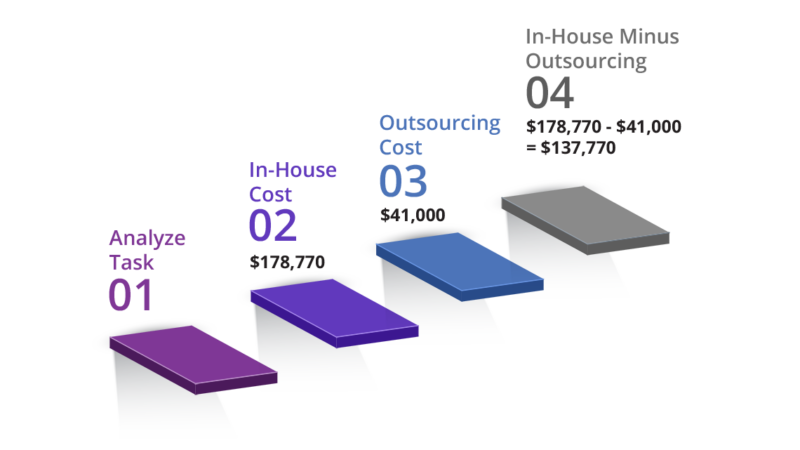 We hope some of the information we've provided sheds light on the many benefits of outsourcing, including:
Reduced errors
Saved time
Lower cost
Simplified expansion
Less training
In the end, you'll need to weigh the pros and cons of outsourcing for your brand. Every company is different and for this reason, there isn't a simple one-size-fits-all approach to marketing. Take your time, do the leg work, and find the best approach for you.