Data reporting and analysis tell you a lot about the inner workings of your business, marketing campaigns, and more. Data analytics reports can be as frequent as you like, even arriving in real-time to keep you updated about current business undertakings.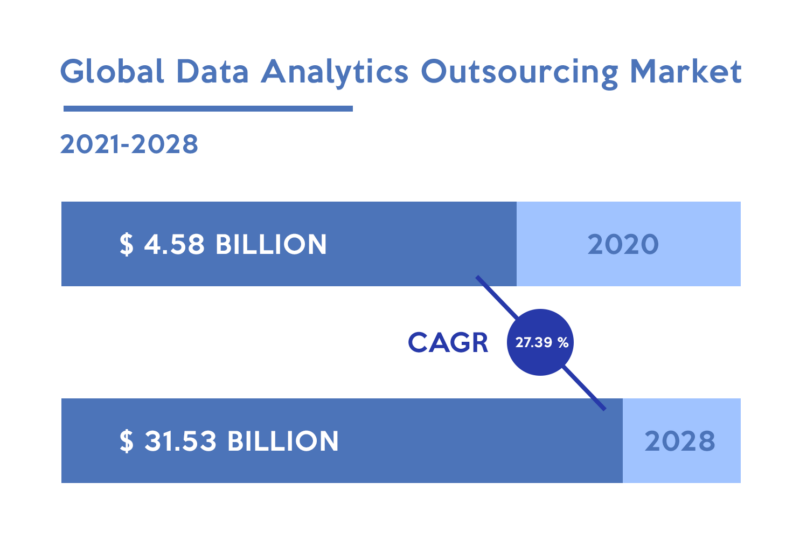 Managing data analytics reporting and analysis internally takes up a lot of time and resources. This is where modern companies begin to wonder how much it costs to outsource data analytics reporting. This guide will explain exactly that.
Why Should You Outsource Data Analytics Reporting & Analysis?
Outsourcing data analytics reporting and analysis takes the onus off you as a business over. Delegating this task to a third-party company, not only ensures the reports are read and documented properly, but kept up regularly.

As you consider the pros and cons to outsourcing data analytics reporting, here are a few of the major benefits.
Familiarity with new technology and practices
The tech industry is booming. Stay ahead of changing trends with a data analytics service provider. Data analytics reporting professionals are constantly monitoring the analysis game for updates and new tools. To be the best at what they do, they continually evolve with the technical landscape. 
Whether you're in fashion, medicine, finance, or another industry, you might miss out on these updates without the help of an expert. Familiarity with new technology and data analytics reporting practices could give you a leg up over competitors.
Predictive analysis
Technology advancements have made predictive analysis reporting a major benefit for business owners. The technology works by studying past and current data and using statistical algorithms to determine outcomes going forward.
As with any type of AI, there's room for growth here. However, you can rest assured you'll get the best results with a professional. Outsourcing data analytics reporting and analysis to an experienced team increases the chances of successful predictive analysis.
Saving time
Time is a major stressor for business owners. No matter your niche, time is money and money is essential for success. Outsourcing data analytics reporting frees you up to focus on other areas of business by removing the need for:
Hiring in-house data-reporting employees
Training
Scheduling new employees
Dealing with salaries and benefits
Monitoring reports personally
No developing a data management strategy
Less market research on company data
All of this is done for you when you work with a third-party data analytics reporting provider. Talent is pre-vetted, trained, and ready to tackle reporting for your brand.
Fewer mistakes
Mistakes in reporting mean mistakes in business planning, and this gets messy. Mistakes are bound to happen when tasks are delegated to newly trained or untrained staff.
When you partner with a professional data analytics reporting and analysis company, you reduce the risk of everyday mixups because your partner is liable for those mistakes. They take great strides to monitor reports for inaccuracies with advanced data analytics solutions.
No Data Warehouse
An in-house analytics services team means a lot of business data circulating. A data warehouse offers somewhere to store these data volumes. Data warehouses are expensive and complicated to navigate.
An outsourcing contract might include storage options for these data volumes. Talk to your analytics services outsourcing vendor to find out the direct costs associated with the data reporting development process and storage options.
Experience and expertise
Experience in the data analytics reporting niche offers insight into hidden markets and unknown trends. Outsourcing opens the door to a team of dedicated staff focused on analytics analysis. They have access to a unique data analytics tool and abilities you might otherwise miss out on.
A data reporting provider may even have tools and software you can use to enhance your current level of data analysis. This benefits your entire team.
Fewer training requirements
Training is a major time and money requirement when hiring new staff or developing a new department. Rather than hiring in-house data analysis staff, outsourcing reduces your training responsibilities.
Training involves more than the act of teaching someone to use a tool or service. When you omit training by delegating to a data analysis partner, you avoid:
Developing training outlines
Buying specialized software and equipment
Hiring management or training staff
Scheduling and overseeing training
Transitioning new employees from training to the workspace
Outsourcing partners have their own training protocols in place. They may tailor these protocols to meet your brand voice and company culture.
Easy expandability
Expanding your company means a greater number of reports flowing in. Managing an increasing mass of data is overwhelming. Your outsourcing company has the staff and resources on hand to match your expanding brand.
What Impacts the Actual Cost of Outsourcing Data Analytics Reporting and Analysis?
Outsourcing data analytics reporting provides a wide variety of advantages, but they come at a cost. There are many factors impacting the cost of outsourcing. Like any service, cost changes based on the provider, but what influences these differentiations? Here are some points that affect cost.
Size of the company
Company size is an indicator of cost when outsourcing anything, especially data analytics reporting. The larger a company, the more you'll spend because there's more data to collect, sift through, organize, and analyze. 
Small to medium companies pay less to outsource. Large businesses pay substantially more as employee count and data sources go up.
Location
The location of your outsourcing partner impacts cost due to various reasons. U.S.-based outsourcing partners usually charge more than international partners. Some of the reasons location affects cost include:
Language
Education level
Availability and time zone
Compare locations of different outsourcing partners based not solely on cost, but benefits they offer.
Availability
Availability links up with location sometimes. Where your data analytics reporting partner is located could impact the hours they have available to you. A business in California, for example, may not want to outsource to a partner in London, England. The time zones are eight hours. 
There's also availability in terms of hours of operation to consider. Is your data reporting outsource center available to chat during your business hours of 9 to 5? Do they offer 24/7 customer service? Overtime usually costs extra. You'll pay more for data analysis centers open around the clock.
Customization
The level of customization you need for your data analytics reporting might change the cost. Different companies require unique quantifiers and data sources in reports. Anytime you venture outside a general package, you risk paying more.
Contract duration
Contracts influence prices for data analytics reporting outsourcing companies. Long-term contracts dictate sustainable partnerships and ongoing income.
Short-term contracts may only bring in income for the allotted amount of time dictated in the contract. For this reason, some outsourcing businesses charge more for short contracts.
Average Costs to Outsource Data Analytics Reporting & Analysis
Between 2% and 6% of your company's budget should go toward data analytics costs. Companies can spend anywhere between $10,000 to $100,000 annually, depending on the specifications of the reports and other quantifying features.
Outsourcing data analytics costs are often dictated by company size. Small companies spend less because there are fewer reports to process. Here's a breakdown of outsourcing costs.
Small businesses: Small businesses can expect to spend somewhere in the realm of $10,000 annually to outsource.
Mid-sized companies: Midsized practices with more employees and a higher ratio of sales can expect to spend somewhere between $10,000 and $50,000 annually.
Large corporations: Big businesses are looking at $50,000 and upwards.
Again, you can often calculate potential outsourcing costs by your business' income level. Smaller businesses earning less will pay less to outsource. Shop around to find an outsourcing service provider who fits your budget and service needs.
Outsourcing vs. In-House Data Analytics Reporting & Analysis – Direct Comparison
Data analytics reporting specialists make an estimated $84,463 based on results from Glassdoor. For an in-house data analytics reporting & analysis team with only two reps, you're looking to spend about $168,926 a year plus additional costs.
Calculating fees outside of salary alone is important if you're weighing options between outsourcing or an in-house team. Here are some comparisons to consider.
Initial startup fees
Startup costs account for a big chunk of money spent on any in-house team. When calculating costs to start data analytics reporting in-house, startups are substantial. Here are a few factors to count on as you add things up for your budget.
Data analytics reporting software: $500 to $2,000
Commercial office space: $25,000 or more for new office
HR costs for talent acquisition: $26 to $33 an hour for vetting, interviewing, hiring, onboarding, etc.
Equipment: $2,000 to $5,000 depending on staff size
Already, it's easy to see how $10,000 annually for a small business to outsource data analytics reporting could be the optimal choice.
Ongoing costs
Once startups are paid, there are ongoing costs to account for. These are any costs you continue paying throughout the life of your business, such as:
Equipment and software upgrades: Roughly 5% of equipment cost.
Training: These costs vary depending on materials and type.
Data analytics reporting manager: $99,559/year according to Glassdoor.
Managers aren't a necessary cost if your in-house data analytics reporting department consists of one employee.
These are just guidelines on potential costs you may incur. There are also hidden costs to consider. Some hidden costs for data analytics depends on data strategy, data storage, and other factors. Be sure every hidden cost is made clear and outlined in black and white.
Total cost of ownership
Knowing you'll pay around $99,559 for a manager, $84,465 for every data analytics reporting representative, and around $29,000 for ongoing and startup costs, outsourcing begins to look appealing. Overall, the cost of outsourcing is far less than the total cost of ownership.
Choosing the Right Data Analytics Reporting & Analysis Outsourcing Provider
Knowing the costs and incentives isn't enough. You must also select a reporting and analysis outsourcing partner that is a good fit for your brand and business ethics. There are many factors to consider when making this call.
One of the top outsourcing companies of data analytics reporting is The New Workforce. They offer top-tier outsourcing services in a variety of areas including data analysis, customer service, sales, IT, and accounting.
Here are a few of the things to look at as you compare outsourcing partners.
Reputation and experience
The reputation of the company you're working with plays a big part in how they serve you. Why? Ultimately, their reputation could impact your own. 
Data analytics reporting and analysis is a big deal to modern businesses. Knowing you're working with a trustworthy and experienced partner is crucial to the success of your data analysis. A good rule for companies seeking new outsourcing partners is to look for companies that have experience in your industry.
Level of Quality
The quality of the services provided by an outsourcing company is also important. These reports could make or break your next marketing initiative. You need to know what's going on within your company, and the devil is in the details. 
Accurate reporting is what you're looking for here. Check on ratings and reviews to see what other customers have said about the partner you're considering. Are their results accurate? Have outcomes been in line with predictions? These are things to look for.
Integration with existing systems
You're already paying money to outsource data analytics reporting and analysis. Do you really want to pay more to overhaul your software and existing systems? Or, adding a software development outsourcing cost as to your budget? No. When selecting a date reporting provider look at the systems they use and determine if they'll work with your own. 
Integrating with existing systems will save time, money, and confusion. Fortunately, many outsourcing providers are aware of this point and use systems that work well with a variety of other platforms and software types.
Customer support
You're the customer when it comes to contacting your outsourcing provider. They provide you with a service and if you have questions or concerns, customer service is there to support you. This is where availability begins to get important, but attitude and quality of care are also worth looking for.
Look at things like:
Language and cultural barriers
Hours of availability
Level of service
Friendliness
Knowledge of your industry
Speak with the customer service team for potential outsourcing candidates prior to signing a contract. See what you're working with and whether they'll be a good fit.
Discretion and Security
Data analytics reporting leaves a lot of important business information in the hands of a third party. The security and privacy you're promised in the handling of this information could vastly impact your brand. 
Check on the level of security your outsourcing provider offers and inquire about additional security options.
In this blog, we talked about outsourcing data analytics reporting and analysis, including:
Benefits of outsourcing
Costs of outsourcing vs. in-house data analytics reporting
What to look for in an outsourcing provider
Some of the major benefits to takeaway are:
Reduced cost
Ease of expansion
Fewer responsibilities
Time saved
Less training and talent acquisition
Access to predictive technology

As you undertake the decision of outsourcing data analytics reporting, be sure to choose a provider that works for you.