Shopify stores is frequently one of the go-to platforms for making an idea a reality when establishing, marketing, managing, expanding, and scaling social media marketing and an eCommerce business. A Shopify store has many moving components, including inventory control, pricing, accounting, marketing, customer support, etc.
As a business owner, you must concentrate on the strategic aspect of the company and outsource an increasing number of tasks as you expand. at Shopify customer service and content marketing is among the functions that are outsourced most frequently.
Shopify has solidified its position as a premier platform for launching, managing, scaling, and sustaining online retail operations. Operating a Shopify storefront encompasses many activities, including dynamic facets for ecommerce business owners like inventory management, strategic pricing, meticulous financial record-keeping, targeted marketing endeavors, and responsive customer support.
In tandem with the organic growth of your enterprise, the pivotal necessity arises to distribute an escalating volume of responsibilities judiciously. This strategic delegation effectively allocates your valuable time and cognitive resources toward the critical domains of strategic planning and comprehensive managerial oversight. However, the key consideration lies in the astute selection of competent professionals for these delegated tasks.
This involves engaging adept Shopify developers or delegating specialized responsibilities to individuals with proficiency in specific areas.
Furthermore, identifying collaborative partners who espouse your project's vision and conform to clear expectations within your financial constraints poses a formidable challenge. Nevertheless, realizing these objectives is a quintessential determinant of success. Herein, we delineate the inherent benefits of outsourcing your Shopify site-related functions for a discerning expert audience.
Considerations for Outsourcing Tasks
To begin, start by cataloging the tasks you routinely perform. This initial step provides insight into which responsibilities consume a significant portion of your time. Consider using a time-tracking tool like RescueTime for full access to a complete and precise breakdown of individual tasks if uncertain.
This tool serves a dual purpose: not only does it monitor productivity, but it also assesses the full time employees have dedicated to individual computer-based tasks.
During this process, you'll discern specific tasks that occupy a substantial portion of your time; typically, these are areas where you excel. Conversely, some activities may yield diminishing returns. In such cases, contemplate outsourcing these tasks.
Here are some other tasks here that could fall into this category:
Order Fulfillment
Outsourcing order fulfillment becomes an invaluable asset to shopify business if you're not employing the dropshipping model. As your Shopify store expands, housing inventory at home will no longer be sustainable.
The process is as follows:
Essentially, order fulfillment providers store your merchandise. When an order is received, they handle packaging and prepare items for shipment. These services typically arrange courier services for parcel collection and delivery.

Additionally, these providers often maintain multiple warehouses, resulting in swift delivery times (typically one to two days for customers).
Benefits:
Expanded Markets: Overcome geographical limitations with outsourcing. For instance, an Indian side business owner can access the American market via a US-based fulfillment center, ensuring fast deliveries and cost savings. This graph shows the demographic
There are currently 3.76 million active business websites employing Shopify as their platform. The largest share of these domains, approximately 69.67%, is registered in the United States.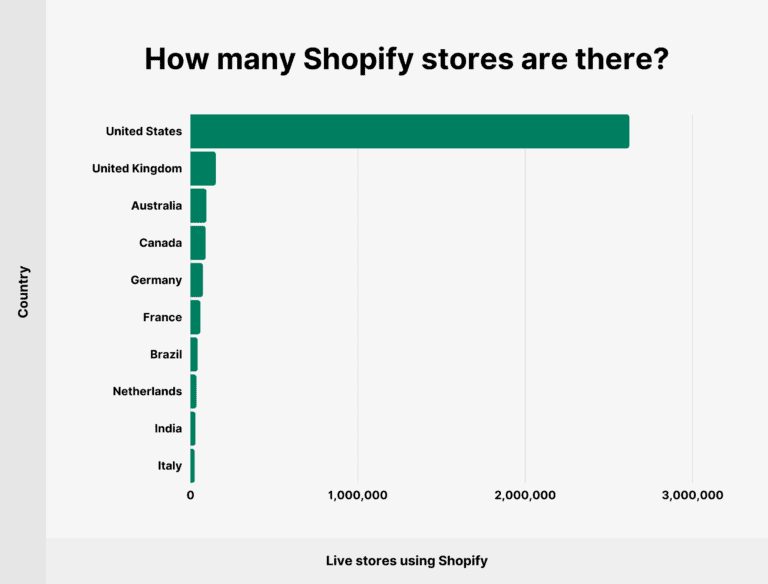 Lower Overheads: Internal fulfillment entails various costs like labor, rent, insurance, supplies, and utilities. Outsourcing simplifies expenses, with transparent monthly invoices and no hidden fees.
Speedy Shipping: Timely deliveries are vital for customer satisfaction. Fulfillment centers excel in expediting both domestic and international shipping, potentially creating brand advocates.
Growth Focus: Outsourcing tasks like order handling frees entrepreneurs to concentrate on expanding their businesses and acquiring more orders.
Clear Shipping: Customers appreciate detailed shipping information. Fulfillment companies provide precise delivery updates, enhancing the customer experience and fostering loyalty.
Seamless Scalability: Fulfillment centers can handle sudden order spikes during peak seasons or marketing campaigns, ensuring prompt deliveries even in high-demand periods
Social Media Management
Establishing a robust brand presence is vital for effective social media and email marketing both. Unfortunately, not all small business owners possess the expertise or time to execute these tasks effectively.
Everyday social media tasks that might necessitate outsourcing include:
Creating, scheduling, and publishing engaging social media content.
Leveraging Facebook's Insights for more effective marketing campaigns.

Defining your brand's voice.
Social media consultants are typically well-equipped to handle all these services and tasks. When considering outsourcing, request client testimonials to ensure reliability.
Also, inquire about their proposed strategies for platforms like Facebook, Pinterest, Twitter, Instagram, LinkedIn, and YouTube. After hiring the hire, establish regular communication to monitor progress across all platforms, facilitating corrections when necessary.
Data Entry
Numerous repetitive tasks fall under the umbrella of 'data entry,' such as:
Adding new products to your store catalog.
Removing discontinued products.

Transferring content to a new e-commerce platform.
While these tasks are crucial for a smoothly running online store, they are time-intensive and can impede business growth when done in excess.
Outsourcing bulk data entry tasks to the right freelancer frees up your time, enabling you to focus on more revenue--generating activities. Smaller brands may find individual hires sufficient, whereas more complex needs may warrant engagement with larger companies with advanced resources.
Website Management
Outsourcing tasks associated with your website, including design, maintenance, and development, is advisable unless you possess expertise in these areas. Constructing, developing, and maintaining a high-quality e-commerce website is a time-consuming endeavor that is best left to experts.
A valuable tip is to consider agencies for web development and design outsourcing. Agencies typically assign dedicated contacts responsible for customer experience ensuring timely and high-quality work.
When hiring freelancers for web site development, remember that different freelancers specialize in various aspects, such as WordPress, web site design, web app development, coding, marketing and more. Scrutinize their previous work and assess their compatibility with your project based on their industry experience.
Content Creation
To increase your visibility in search engines and establish your authority within your niche, it is crucial to engage in blogging. 
Customers are more likely to make purchases when they perceive your expertise. 
While ideal circumstances allow a team member to produce top-quality content every week, practical constraints may make this unattainable. 
Outsourcing your content writing needs to an experienced freelancer may be a viable alternative. To ensure a fruitful collaboration with a freelance writer, it is imperative to provide training to ensure proficiency, especially if specialized software is involved. 
Establishing explicit deadlines for task completion and maintaining transparent and effective communication is also essential. 
Collaborative tools such as Google Docs can be used for document sharing, and periodic Zoom meetings should be scheduled to foster rapport and monitor project progress.
Administration
A virtual assistant (VA) is an optimal solution when general tasks can impede productivity. A virtual assistant can undertake various functions, including calendar management, travel arrangements, appointments, and meetings, and preparation of presentations, reports, and spreadsheets. And execution of personal errands. When considering the engagement of a VA, it is imperative to ensure that the necessary training is provided, particularly for tasks involving specialized software. 
Establishing clear task deadlines and maintaining effective and transparent communication is also essential. Document-sharing platforms such as Google Docs should be adopted, and regular Zoom meetings should be scheduled to nurture collaboration and track progress.
Product Descriptions
As your Shopify store expands, it is natural for your product inventory to grow. However, creating compelling product titles and descriptions is a critical aspect that should be considered. Effective, high-quality copywriting can be mentally taxing and time-consuming, especially when products offer diverse variations, such as varying sizes, multiple scents, assorted flavors, and a wide range of colors. 
Despite these products sharing common attributes, the need for unique product titles and descriptions remains pivotal for enhancing search engine optimization (SEO). The need to create and for improved product descriptions becomes apparent when introducing new items to the market research your catalog. Consequently, it often does not warrant the hiring of a full-time copywriter. This is where outsourcing to an experienced professional demonstrates its significant value.
Financial Management
Consistent cash flow is a fundamental requirement for the sustainable operation of any business. Therefore, meticulous financial management holds paramount importance.
 Small companies need to pay more attention to critical bookkeeping tasks, including organizing and filing receipts, tracking business expenditures, ensuring the accuracy of financial records, and recording petty cash transactions. 
The inherent complexity of financial management underscores the rationale behind enlisting the services of a proficient accountant to oversee your financial affairs. By doing so, you engage with seasoned bookkeepers dedicated to comprehending the ever-evolving landscape of tax laws, relieving you of this intricate responsibility.
Customer Service Excellence
Customer service forms the backbone of any digital commerce establishment. Without an effective customer service strategy.
Therefore, ensuring the expeditious and professional handling of customer inquiries is imperative. A pivotal consideration when contemplating outsourcing customer service is a comprehensive assessment of the specific needs of your clientele. 
Here are some critical factors: – Identify customer support services in demand but have yet to be provided by your in-house team. – Assessment of the frequency of customer emails received outside regular working hours. – Evaluation of whether the volume of customer support requests overwhelms your existing staff. 
Following a comprehensive evaluation of your business's demands, you can judiciously outsource an appropriate level of service that aligns with your budget.
In-Depth Market Analysis
Efficient payroll management is a crucial function for sustaining business operations, especially as one's Shopify store expands. Manual payroll operations become increasingly time-consuming and prone to errors when teams encompass individuals with diverse compensation structures. Opting to manage payroll in-house necessitates keeping up with federal and state wage regulations, which is an arduous task fraught with legal complexities that could result in substantial costs for non-compliance. Outsourcing payroll alleviates these burdens. When seeking a suitable freelancer or agency, prioritize those firmly committed to customer service and who maintain regular communication and offer pertinent guidance as needed. Requesting customer testimonials from potential outsourcing partners can help gauge the quality of their services. Additionally, selecting a local service provider or one within reasonable proximity ensures easy accessibility in emergencies. It is also essential to verify that the payroll company is bonded to provide financial security in case of potential mishandling.
Streamlined Payroll Management
Organic search constitutes a significant source of web traffic, contributing up to 51% of traffic for both B2B and B2C websites. Given the pivotal role of SEO, enlisting the expertise of a professional is a strategic decision. Outsourcing SEO provides access to proven techniques that propel businesses closer to their objectives. Investing in SEO tools and extensive staff training is often expensive and leads many business owners to opt for outsourcing. Before committing to a contract, it is crucial to ensure that the chosen freelancer or agency is dedicated to delivering tangible results. Clearly defining specific SEO goals, such as achieving higher Google rankings, increasing website traffic, or expanding social media followership, is vital. Vague, non-measurable targets should be avoided, and tools like Google Analytics should be utilized for effective tracking and measurement of SEO progress.
Strategic SEO Optimization
Organic and search engine optimization constitutes a significant source of web traffic. Given the pivotal role of SEO, enlisting the expertise of a professional is a strategic decision. Outsourcing SEO provides access to proven techniques that propel businesses closer to their objectives. Investing in SEO tools and extensive staff training is often expensive and leads many business owners to opt for outsourcing. Before committing to a contract, it is crucial to ensure that the chosen freelancer or agency is dedicated to delivering tangible results. Clearly defining specific SEO goals, such as achieving higher Google rankings, increasing website traffic, or expanding social media followership, is vital. Vague, non-measurable targets should be avoided, and tools like Google Analytics should be utilized for effective tracking and measurement of SEO progress.
To establish a robust brand identity and enhance the visual appeal of your Shopify store, it is advisable to engage the services of a proficient graphic designer. An expert designer can create a unique company logo, develop striking banner images, and design an engaging product catalog. To ensure a professional aesthetic, you should seek recommendations from reputable sources, request references from their previous clients, and thoroughly review their portfolio. You should also provide clear and comprehensive instructions regarding your design requirements and address factors like budget constraints and conflict resolution through well-structured contracts.
Targeted Email Marketing
Effective email marketing is critical for enhancing sales and nurturing customer relationships. To execute it effectively, you may need to hire or outsource to a professional freelancer who can determine optimal email dispatch times through data analysis, monitor and analyze click-through rates and conversion rates, create and experiment with various email headers to optimize the effectiveness. Email campaigns can serve a multitude of purposes, including promoting new products, distributing discount codes to customers, and sending reminders to potential customers who have abandoned their shopping carts.
Robust IT Support
Website or server crashes and malware attacks can be catastrophic for your Shopify store. If in-house IT experts are unavailable, outsourcing to a comprehensive IT support company becomes indispensable. Seek a provider that offers robust security measures and vigilant website maintenance to ensure quick and efficient resolution of technical issues.
Photography and Videography Services
Exceptional product photographs and high-quality videos are indispensable for building credibility and fostering trust among your audience. As an online store owner, you must compensate for the absence of physical product interaction by providing exceptional visuals. To achieve this, you should consider engaging the services of a professional photographer or videographer. They can provide expertise in areas like product lighting, composition, and framing of product images, resulting in visually appealing outputs that can enhance your brand identity.
Benefits of Outsourcing Shopify Fulfillment
Faster Deliveries:
Rapid and cost-effective delivery is crucial for online shoppers. Third-party fulfillment providers have the expertise, resources, and strategic locations to ensure swift order dispatch. This not only gives you a competitive edge but also ensures timely deliveries to a happy customers too.
Cost-Efficiency:
Outsourced fulfillment services excel at optimizing cost-effective product delivery. They leverage volume-based shipping rates and minimize warehousing expenses.
Improved Customer Service:
High shipping costs and delivery delays often lead to cart abandonment. Outsourcing fulfillment enhances sales conversion rates and ensures consistent, timely delivery of high-quality products. Customers receive punctual tracking information, reducing the need for your involvement in addressing delivery issues.
Business Expansion:
Delegating common tasks, such as order processing and customer inquiries to a fulfillment service provider frees up your capacity to handle increased order volumes. This empowers you to explore multi-channel sales and faster shipping programs while maintaining exceptional service standards.
Technological Advancements:
Access cutting-edge eCommerce technology without the expense of licenses and training. You can seamlessly integrate all the tools and software used by third-party fulfillment services with your Shopify sales channels, streamlining order processing, improving inventory management, and providing comprehensive order tracking data.
Assessing the Downsides of Outsourcing Shopify Fulfillment
Evaluating the drawbacks of outsourcing Shopify fulfillment is crucial for making informed strategic decisions, particularly for experts in the field.
Loss of Control and Visibility:
When you start outsourcing Shopify fulfillment, you cede some control and visibility over the entire process. This shift can be unsettling for eCommerce experts accustomed to direct oversight. However, it's essential to ensure that this loss of control doesn't compromise critical factors like delivery speed and quality, particularly during peak periods. Moreover, experts should be vigilant to avoid common time and money-wasting mistakes resulting from this shift.
Packaging Limitations:
Third-party fulfillment providers may restrict your ability to personalize packaging or offer gift-wrapping services. These customizations, while valuable for branding and customer experience, can be time-consuming and affect order fulfillment speed. If the unboxing experience is pivotal for your brand and customer journey, you might consider alternatives like in-house fulfillment or a hybrid approach combining in-house and outsourced delivery to address packaging constraints.
Integration Challenges:
The eCommerce ecosystem involves numerous software applications and platforms essential for efficient business management and scaling. Outsourcing fulfillment can introduce complexities to manage this already intricate tech stack. For experts exploring outsourcing, seeking providers with robust multi-platform inventory management tools can significantly simplify operations, save time, reduce platform dependence, and mitigate integration challenges.
Financial Considerations:
Third-party fulfillment services come with associated costs, including storage, picking, packing, and shipping fees, which can accumulate over time. To make informed financial decisions, experts should conduct a comprehensive cost-benefit analysis. This analysis should compare current expenses related to warehousing, staffing, packing materials, security, inventory management, shipping, and insurance against the costs of outsourcing fulfillment.