The business world has become a digital maze of hardware, software, and databases. As a business owner, managing these technical components is daunting, especially if you don't have a tech background. Outsourcing IT support takes all the digital stress out of your workload. Leave it to your managed service provider instead.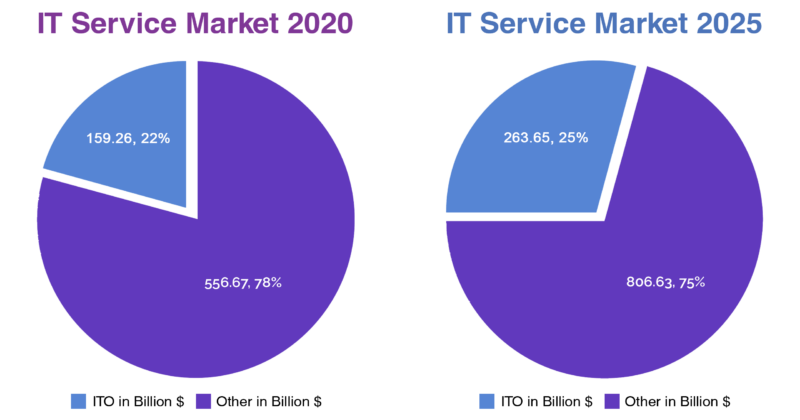 Outsourcing lets you delegate IT tasks to an experienced third-party provider. This brings your focus back to managing your brand. Throughout this guide, we'll talk about the major advantages and effects of outsourcing. We'll also answer the question: how much does it cost to outsource IT support?
Why Should You Outsource IT Support?
Whether your target customers are consumers or businesses, technology is a common denominator. From web design and update to internal company databases and email correspondence. There's more pressure now than ever before for businesses to stay on top of tech.
There are many benefits to outsourcing your IT support department. Here are some of the most common advantages your service provider brings.
Time savings
The age-old adage, "time is money" has never been truer. Time spent on tech issues take away from day-to-day business. Even if you're well-versed in the digital landscape, business owners have too many responsibilities to manage tech as well.
Some of the ways in-house IT drains time include:
Training
System upgrades
Hiring
Performance reviews
Security protocol updates
Software and system setup
By outsourcing to an IT service provider, you skip all these time-consuming tasks. The technical side of your business still runs efficiently, but without the need for constant managerial input.
Reduced errors
Fewer errors is another advantage of outsourcing IT support. Whatever your business makes or sells, unless you're an IT company, your expertise resides elsewhere. By sending tech tasks to an IT company, you reduce the risk of unnecessary mistakes.
Third-party IT companies train employees for consistency. There's no worry that one outsourced assignment will differ from the next in quality. This streamlined efficiency also reduces errors.
Access to expertise
Even with IT support outsourced, there's a chance you might have in-house questions. Working with a managed service provider, you gain access to their expertise. Companies who work in IT for a living have tools, databases, and other supports in place that may be of use to you.
IT support companies specialize in various levels of technology. You also stand to gain alternate expertise from departments you don't work with within the organization. For example, you'll be covered if you ever choose to upgrade or change technology.
Fewer Training Requirements
Training is a time and money drain for business owners. In IT support, there's a need to train support representatives, as well as IT managers or supervisors. By outsourcing there's no need to create training programs or divide tech teams into varying levels of support.
Training is often handled by department heads or human resources. Outsourcing leaves your department heads to deal with their own areas of expertise. It also frees up HR departments.
Ease of Expansion
Expanding your tech team is easy when you have a seemingly endless supply of employees at your fingertips. Internal IT department expansion requires talent acquisition, including processes such as:
Interviewing
Contacting references
Training
Organizing payments and benefits
Just skipping the task of vetting new talent alone saves a lot of time and energy. You'll also have cost savings within your human resources capacity. To expand your team through outsourcing, you simply let your partner know you want to increase call volume.
What Impacts the Cost of Outsourcing IT support?
Tech support gets costly. There are many factors impacting the overall cost of outsourcing IT. This is important to understand as you begin deciding between an in-house IT department or outsourcing services.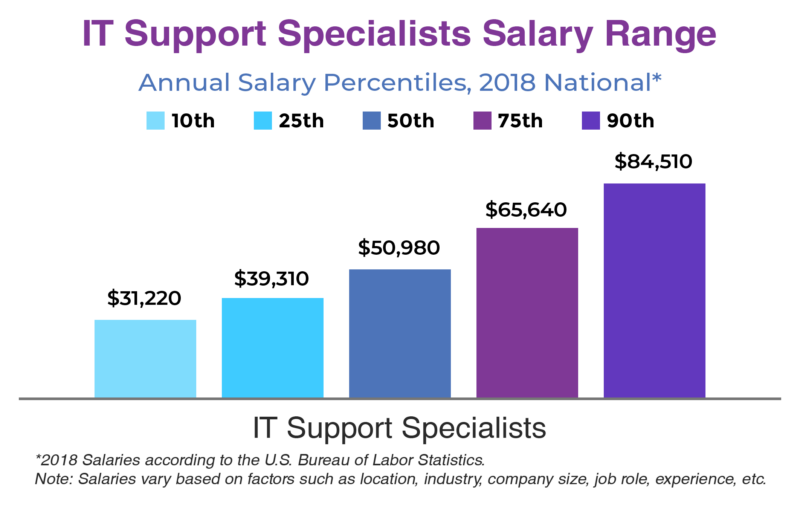 Internal tech support is attractive because you know you'll have consistent access during business hours. The cost isn't always feasible, however, if tech support services are rarely required and an annual salary is on the books.
After consulting with your budget, consider the many external forces, including the following.
Size of the company
The size of your company directly impacts the cost of IT support. More technology means more potential breakdown, more updates, more server maintenance, and more password resets.
The more IT support employees you require, the more you'll pay for a third party service provider.
The size of your company may also impact the cost and contract type offered by outsourcing services. Tech services may leverage the fact that you have multiple departments to serve, and charge based on this.
Level of service needed
IT level is determined by tier, with tier 1 being the least intensive, and tier 4 the most. The level of service you require impacts cost because of the expertise needed, and the time it takes to solve said issues.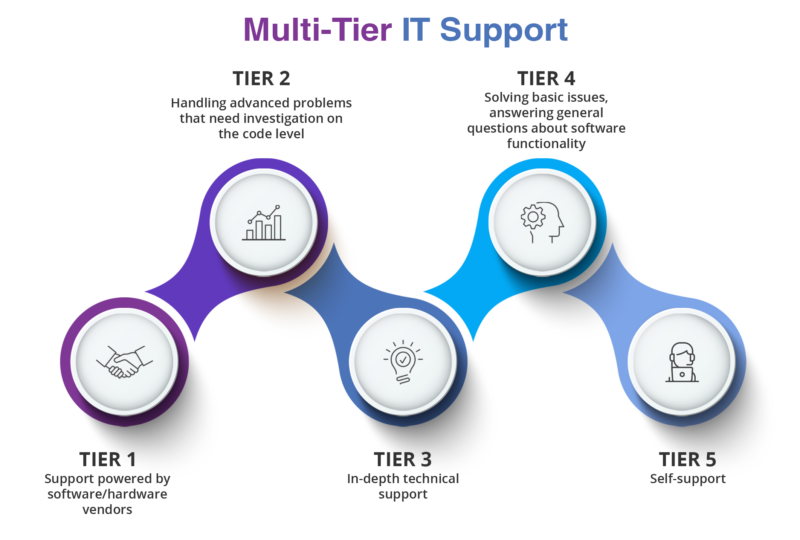 Here's a run down of the basic tiers/levels of IT support. Your managed services provider may have additional tiers depending on their services.
Tier 1: General IT help desk needs
Tier 2: Advanced IT support
Tier 3: Escalated IT support requiring expert attention
Tier 4: All tiers by external forces (ex. Cloud support)
Check to see what services and IT tiers are offered by each potential services provider.
Location
Outsourcing means sending requests and complaints to a third-party company. This company could be located anywhere in the world. The location makes a big difference in pricing.
Technical support solutions based in the United States are more costly than most international companies. This is mainly due to America's high standards of quality and training in technical support. We also have unique minimum wage requirements compared to other countries.
You can save money by outsourcing to a company outside of the U.S. It's important to factor in things like quality control, language barriers, and privacy concerns as you choose a location.
Availability
IT support availability influences price by calculating overtime costs and after-hours support structures. Businesses that provide technical support Monday to Friday 9 am to 5 pm are likely cheaper than those offering 24/7 support.
This is when determining customer demographics through early market research is key. Knowing what time zone the majority of your customers live in will help make decisions on availability.
Customization
Level of customization is another expense in IT support. Business owners requiring technical support for bespoke platforms or software may need extra customization.
customization is costly because your managed services provider needs to train staff or develop an exclusive team for your products.
General tech support and digital security are cheaper. Technical support services can use standardized practices and refer to precedented cases to tackle issues. This is less costly to them, and so less costly to you.
Contract duration
Long-term contracts tend to be cheaper than short-term contracts. This is because your commitment to the outsourcing partnership guarantees a set amount of income.
To make contracts longer, IT companies may create packages at discounted rates.
Have a company lawyer look over any contract, long or short, before signing. Some long-term contracts have financial repercussions for early cancellation.
Average Support Costs to Outsource IT support
The average cost to outsource IT support ranges between $80 and $150 per month for a single user. The cost varies based on the factors listed above. Here's a breakdown by business size for a better idea of what you might pay for outsourcing costs.
Small businesses: For a company with 5 to 10 employees, you can count on IT support costing between $400 and $1,500 per month.
Mid-sized companies: A mid-sized business with 10 to 20 employees will spend $1,500 to $3,000 per month.
Large corporations: Big companies with 20 to 100 employees face costs as high as $15,000 per month. More, if there are more users or advanced technical requirements.
The size of your business may also affect the types of services your IT team offers and outsourcing costs. Enhanced technical support solutions including government or medical compliance, planning software, or advanced security are more costly.
Outsourcing IT support vs. In-House IT support – Direct Comparison
When determining how much it costs to outsource IT support, it's good to compare internal support. According to Glassdoor, the average internal IT support employee salary is $54,963 annually.
Small businesses that outsource IT are looking at a high-end yearly cost of $18,000. This is based on the company having around 10 users requiring support.
Throughout the life of your business, you'll encounter initial startup costs and ongoing costs. This includes costs for tech support. Here's a breakdown of some of the costs you'll encounter.
Initial setup costs
These vary by company. Internal IT has more setup costs, including:
IT support office: $25,000 to $60,000 annually based on the square footage needed
Talent acquisition: $26 to $33 per hour to pay human resources
Computers and software: $2,500 to $6,000
Training is also costly, especially if you're paying IT employees during the training period.
Ongoing expenses
The ongoing costs of outsourcing IT are generally just your monthly service fee. This is determined when you build and sign your contract. Internal IT support has ongoing costs as well, such as:
IT support manager hiring: $78,818 annually
Software maintenance: 2% to 5% of RAV (total replacement value of equipment)
Training upgrades: The digital landscape is constantly changing, IT professionals require ongoing training. Costs vary based on the number of employees and training type.
Anything your company pays for regularly is an ongoing cost. These get pricier with business size. For example, in the case of a small business, a support manager might not be required.
Total cost of ownership
To hire an in-house team, you're looking at an overall cost of around $108,179 a year, including startup and ongoing costs. This doesn't include individual salaries (it does include an IT manager). Add $54,963 for each IT staffer you hire.
Choosing the Right IT service provider
We've covered how much it costs to outsource IT support. Now, how do you know which IT service provider is right for your brand? Here are a few things to investigate as you narrow down candidates.
As you get started, we recommend checking out The New Workforce. We supply well-trained, pre-vetted off-shore talent and specialize in IT support, sales, customer service, and more.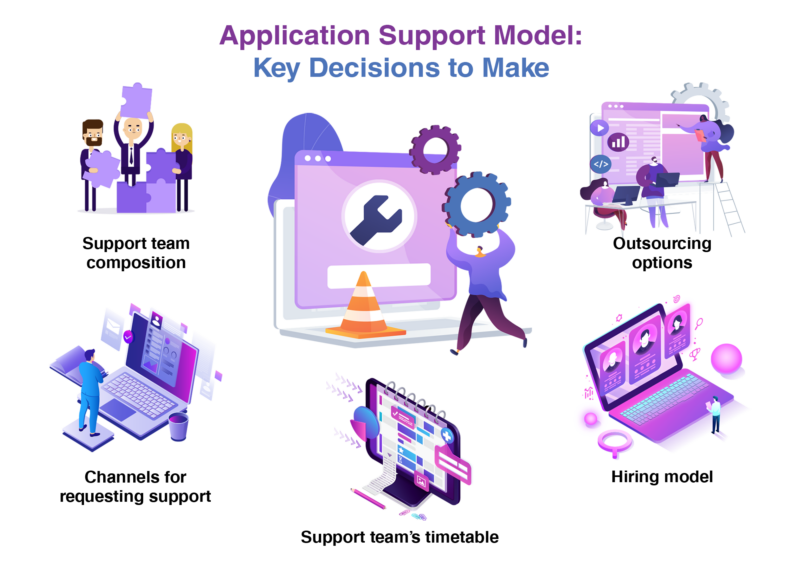 Reputation and experience
Online reviews and ratings tell you a lot about the experiences of past IT company customers. Are customers satisfied with services? Do you see any complaints? Your IT company's reputation could directly impact your business' reputation.
If you have website issues, security breaches, or malfunctioning software it also impacts your customer's experience.
Finding an experienced IT support company minimizes the risk of these issues. Technology is flawed, but working with a solid technical support company encourages consistency.
Quality of service
The quality of service a technical support company supplies is another qualifying factor. This goes hand in hand with choosing a technical support firm with a glowing reputation. Some things impacting the overall quality of service include:
Certification
Training
Language and country of technical support firm (International outsourcing is popular but language barriers could impact communication)
Years in business (experience)
Well-developed framework for IT services
Look for tech support firms that have worked with businesses like yours. If you're an app developer, seek IT support with app experience. If you own a retail store, seek IT support firms that have worked in the retail industry.
Integration with existing systems
Tech integration is a big determining factor for companies seeking to outsource. Why? Because if platforms and software are incompatible, your IT support team can't help you.
Think of it in terms of Apple vs. Android. There are some apps and tools Android phones use that Apple devices can't. If your company uses Apple and your IT team is used to Android, it could impact quality, timeliness, and cost.
Customer support
Customer support services are an important part of any business, including IT support. When your staff needs help, customer support connects you to the IT service you need. They also handle complaints or concerns.
Look at things like availability and mode of contact. If IT customer support is only available during weekday working hours, or online chat, it might not fit your business model.
People
The number of people on your IT support service provider staff could be the deciding factor in a partnership. You need enough support members to manage the different departments of your business.
Tech support for POS differs from email communication which differs from CRM platforms. Your business type, staff training, and different departments within your business all play a role in the type of tech support you'll need.
Processes
There are different processes involved in IT support. Think of it as choosing a business based on the services they provide.
Operations, service requests, and software are some of the major processes covered by outsourced IT support. Ensure outsourcing candidates include the processes you need to get ahead.
This guide on IT support covers a wide range of critical information required to choose between outsourcing and in-house. We've covered the benefits of a managed service provider, such as:
Fewer mistakes
Expert support
Saving time
Saving money
Easy department expansion
Less training needs
Reduced strain on resources
This guide also goes over a detailed list of ongoing and startup costs for internal IT team and outsourced IT support. Some of the major costs include:
Hiring IT talent
Hiring an IT support manager
Training
Salaries and benefits
Equipment and maintenance
Expanded office space
While both an in-house IT department and outsourced IT support service provider have pros and cons, outsourcing is financially favorable. Before deciding, look at your budget, current IT resources, and the needs of your staff.
If your small business is growing, or you're struggling to maintain tech support alone, it's time to call in a professional IT service provider. Look for a company that meets your business needs and values.